We know Malcesine like the back of our hands.
Not only is it a special destination, but there's also plenty to do (although one of our favorite things to do is sit in a bar near the lake to take it all in!).
Here are the recommendations we will go through in this post;
Visit Malcesine castle
Take a trip up Monte Baldo on the cable car
Explore the cobbled streets
Enjoy the beautiful food (and wine!)
Take a boat trip to see other towns in Lake Garda
Take in some of the local surroundings
Take a day trip to other towns in Lake Garda (with our recommendations)
Visit a nearby Italian city (Verona, Venice & Milan)
Malcesine Castle (Scaliger Castle of Malcesine)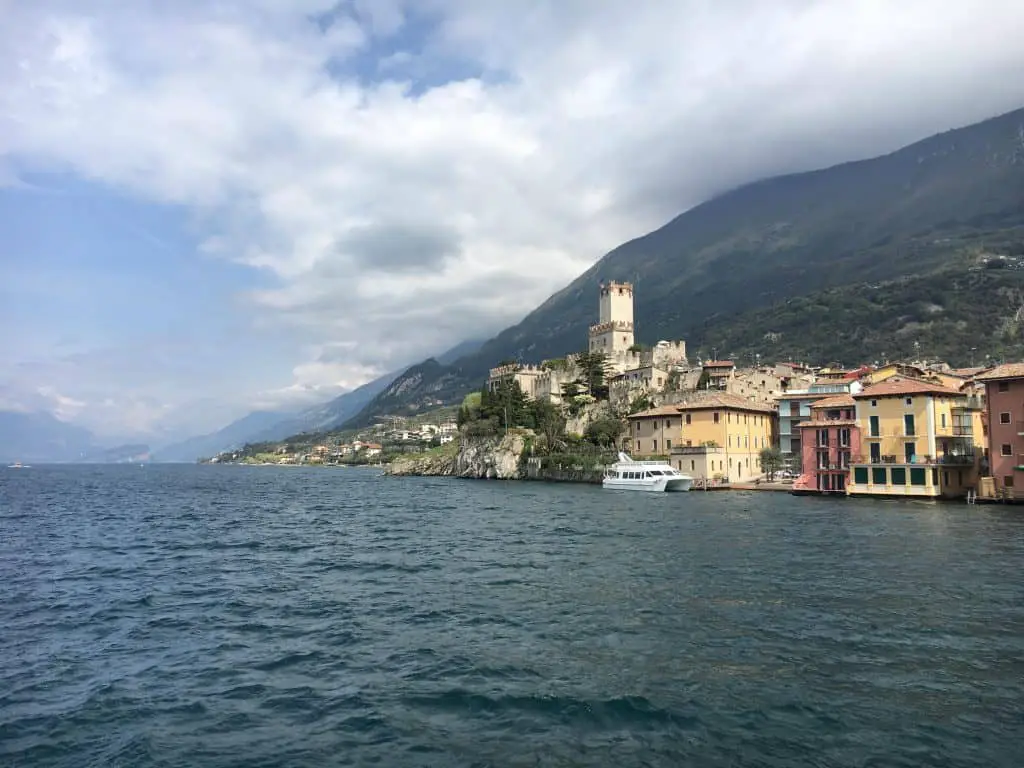 The Scaliger Castle of Malcesine is full of history.
The castle dates all the way back to the 5th & 6th centuries (!) and has been attacked, destroyed, and built back up again a number of times throughout its history.
What stands today is the castle that was renovated between 1277 – 1387 (by the Scaliger family – hence the name of the castle).
The castle is open for you to explore and appreciate the history and stature of the building. You can also climb to the top of the castle which gives you wonderful 360-degree views of Malcesine and Lake Garda.
Entry Prices
Adults: €6.00
Reduced (over 65s & 14-18-year-olds): €5.00
Kids (from 6 to 13 years old): €3.00
Children under 5 go in for free
Opening Times
The castle is open from April to the end of October. From May to the start of October the castle is open from 9:30 am – 7:30 pm, whilst in April and October the castle is open from 9:30 am – 6:30 pm.
---
Take A Trip Up Monte Baldo On The Cable Car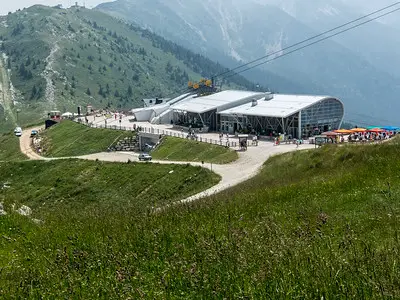 Taking the cable car up to Monte Baldo from Malcesine is a must.
Not only are the views at the top spectacular, but the ride-up is an experience in itself due to the 360° revolving cable cars.
At the top, there are numerous hiking and walking trails across Monte Baldo, as well as some cafes and restaurants:
Skywalk Snack Bar
The Skywalk is located in the cable car station at the top of Monte Baldo. It offers a range of drinks and snack-type food – such as paninis.
There's outdoor seating on the decking area outside, with tables, sun loungers, and bean bags, all with a fantastic view of Lake Garda from above – so it's the perfect place for a drink and a bite to eat.
Ristorante Bar Baita Dei Forti
Situated right next to the cable car station, Baita Dei Forti is more of a restaurant in comparison to Skywalk.
We would recommend trying to get indoor seating next to a window as it offers a fantastic view of Lake Garda.
Considering the location, the prices aren't too expensive for food and drink. Plus, if you love it so much, you can even stay the night in one of the six rooms they have available.
La Capannina
La Capannina is another restaurant at the top of Monte Baldo.
It's a 5-minute walk from the cable car station, and it offers a great menu with lots of choices.
La Capaninni also has sun loungers and bean bags which are great to relax in and take in the view – especially if you have just been on a long hike!
Malcesine to Monte Baldo cable car prices
| | |
| --- | --- |
| Return Ticket – Full Price | One Way – Full Price |
| Malcesine – Monte Baldo – €25.00 | €17.00 |
| Malcesine – San Michele (second station) – €10.00 | €6.00 |
| San Michele – Monte Baldo – €25.00 | €17.00 |
| | |
| --- | --- |
| Return Ticket – Juniors (under 14) | One Way – Juniors |
| Malcesine – Monte Baldo – €15.00 | €12.00 |
| Malcesine – San Michele (second station) – €8.00 | €5.00 |
| San Michele – Monte Baldo – €15.00 | €12.00 |
Malcesine cable car station
The cable car station in Malcesine is situated just off the main road that runs through Malcesine (Via Gardesena). There is parking available at the cable car station and multiple parking options in Malcesine too.
---
Explore The Cobbled Streets
Malcesine is stunning, and we think there's nothing better than taking a stroll through the myriad of cobbled streets it has to offer.
You may stumble across a bar or restaurant you may have missed, or a shop selling some locally produced goods.
There are also some lovely courtyards in Malcesine and there are plenty of spots to take that perfect photo to document your travels.
---
Enjoy The Beautiful Food (& Drink!)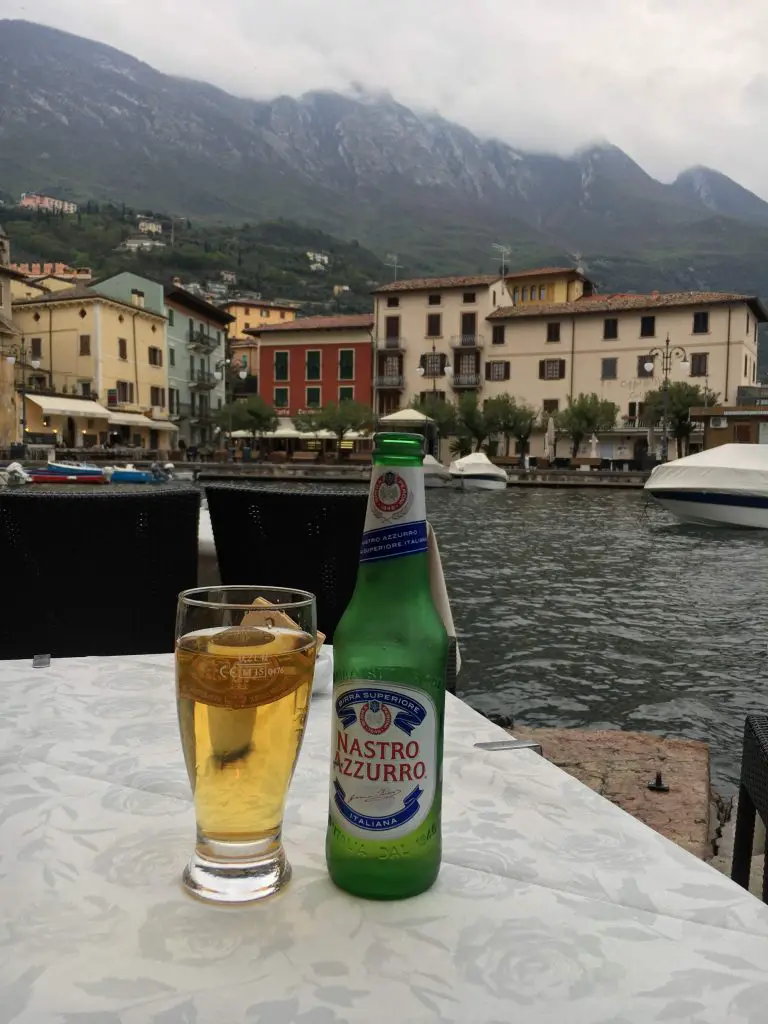 As you would expect from an Italian town, the food and wine on offer are exceptional.
For us, there's nothing better than sitting down and enjoying a drink in Malcesine after a long day exploring Lake Garda.
There's a large range of bars and restaurants in Malcesine, here are some of our favorites;
Ristorante Italia da Nikolas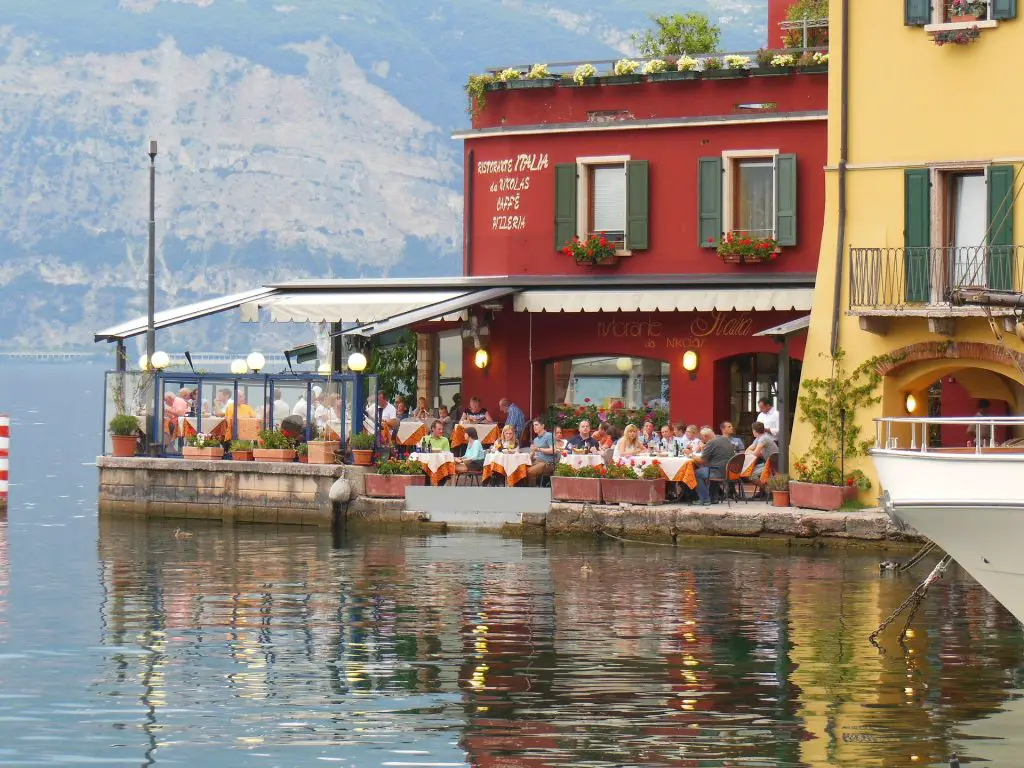 Ristorante Italia Da Nikolas is right on the edge of Lake Garda and the harbuor in Malcesine, meaning you have fantastic views whilst you enjoy the amazing food.
The restaurant has a long wine list, has a great choice of pizza and pasta, and also has plenty of fish options (fresh from Lake Garda).
La Bottega del Vino
Nestled away in a side street around the corner from the harbour is La Bottega del Vino. This is a true hidden gem in Malcesine.
The restaurant itself is fairly small, so there are limited tables and it can get very busy during the peak summer season.
There's a fantastic wine menu and food-wise we would recommend the baked gnocchi – it's what we go for every time we visit!
Ristorante Pizzeria Garden
Ristorante Pizzeria Garden is tucked away just down the road from La Bottega del Vino. It sits right on the lake and the restaurant's main seating area is a decking area outside with beautiful views of the lake.
Vidoc
Vidoc is slightly more upmarket than the other suggestions here – but it's definitely still worth a visit.
The restaurant is voted as the best in Malcesine according to Tripadvisor.
We would recommend making a reservation if you want to eat here as it's very popular and there aren't too many tables!
You can see the full menu here.
---
Take A Boat Trip To Other Towns In Lake Garda
There are quite a few boat trips you can take from Malcesine. You can visit Limone Sul Garda, Riva del Garda, or go all the way up to the north of the lake to Sirmione and Desenzano del Garda.
You can also do full-day boat trips which have multiple stops – with some including lunch and refreshments.
Here are a couple of boat trips from Malcesine we have highlighted for you:
Take a taxi boat over to Limone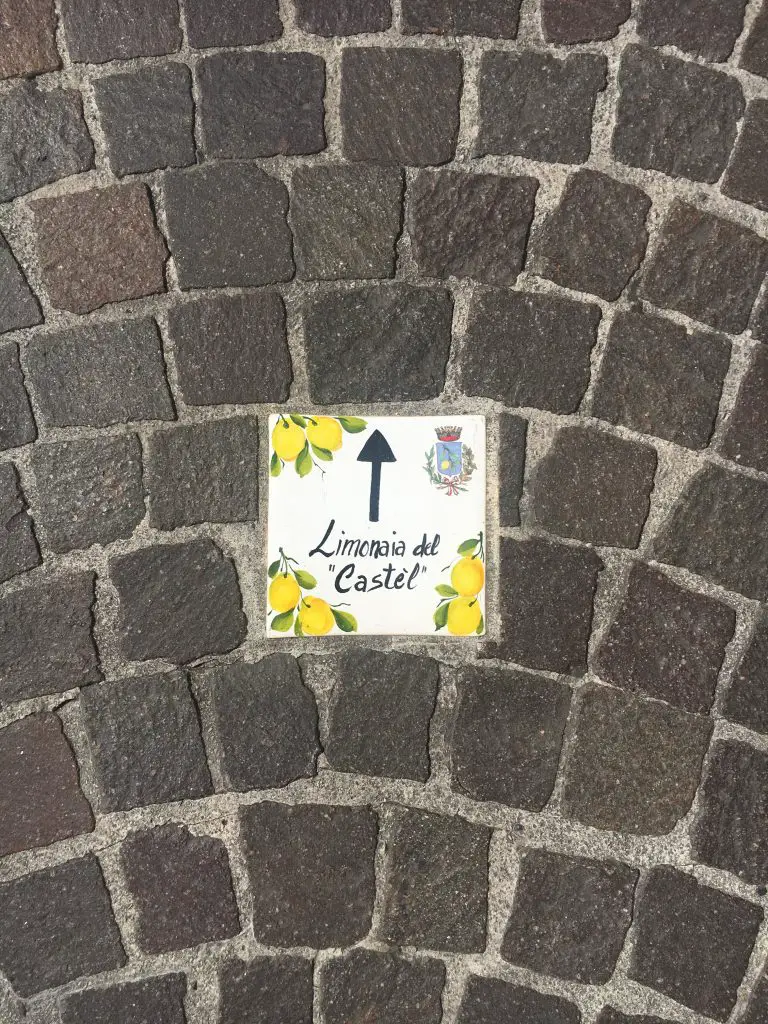 Duration: Less than 30 minutes
Pricing: €9 return for adults, €5 return for children (under 12)
Departure time(s): Every half an hour starting at 10:00 am to 15:30 pm, every day
Taking a taxi boat from Malcesine to Limone is quick, easy, and a must if you are staying in Malcesine for more than a few days. Limone is a great place to visit for the day, and we would highly recommend visiting the lemon museum (La Limonaia del Castel).
You also get a great view of Malcesine and the Scaliger Castle from the water whilst on the way to Limone.
The best part about taking a taxi boat is you can decide when you want to return, so you won't be rushing back if you don't want to. Just make sure to check what time the last boat leaves when you get off at Limone!
Top tip: Limone has a 'happy market' on Tuesdays, so if you are planning to head over to Limone then we would recommend going on a Tuesday to take in the market!
Evening boat ride on Lake Garda from Malcesine
Duration: 2.5 hours
Prices: €13 for adults, €7 for children (under 12)
Departure time(s): Every Thursday at 20:30 pm
Itinerary:
Sail from Malcesine to Limone (30 mins)
Stop at Limone (1.5 hours)
Sail back to Malcesine (30 mins)
Boat amenities:
Restrooms
Pets allowed (€5 charge)
On this boat trip, you will be able to see the sun setting on Lake Garda and spend the evening in Limone – which is definitely something we would recommend. The boat leaves Limone at 10:30 pm and you will be back in Malcesine at 11 pm.
If you don't fancy a boat trip, you can also hire your own boat on Lake Garda and explore the lake at your own leisure.
You can see the latest Lake Garda ferry timetables here.
---
Take In Some Of The Local Surroundings
Take a stroll through Malcesine harbour
The harbour is one of our favorite spots in Malcesine. There's always plenty of activity going on down here, with boats coming in and out all day, whilst bars and restaurants surround the harbour – so you can enjoy some food & drink whilst people watching and taking in the views of Lake Garda.
Visit the Aril river – officially the shortest river in Italy
The Aril River is located in Cassone di Malcesine, which is roughly a 5-6 minute drive from Malcesine (or a 50-minute walk).
Visit some of the beaches Malcesine has to offer
There are quite a few beaches in and around Malcesine – which may come as a surprise to some people.
Paina Beach – Paina beach is just north of Scaliger Castle and is about a 7-minute walk from the center of Malcesine. There's ample parking at the beach car park, as well as some bars and restaurants.
Like most beaches around Lake Garda, Paina beach is pebble and not sand.
Posterna Beach – Posterna beach sits right under the castle. It's quite small and we wouldn't recommend visiting if you wanted to sit on a beach for a long period of time.
However, we would recommend visiting to have a swim or a dive in the lake!
Navene Beach – The beach of Navene is situated north of Malcesine (about a 7-minute drive or 55-minute walk). There's a car park right by Navene Beach, and you can also pick up the bus from Malcesine town centre.
Situated right next to the beach are some bars & restaurants, so you won't go hungry if you venture out of Malcesine in search of this beach!
---
Take A Day Trip To Other Towns In Lake Garda
Okay, we know this post is about Malcesine, but if you are looking to stay in Malcesine then we would recommend looking at where else in Lake Garda you can see whilst staying there.
We've picked out some of the best places to visit in Lake Garda whilst staying in Malcesine.
Limone Sul Garda
As we mentioned above you can get a taxi ferry over to Limone Sul Garda quite easily from Malcesine, and it's definitely worth a visit. With plenty of shops, bars, and restaurants (plus the lemon museum!) you can easily spend most of the day here.
As it's on the opposite side of the lake than Malcesine, it's also a great opportunity to take in the views of the lake from the other side.
Sirmione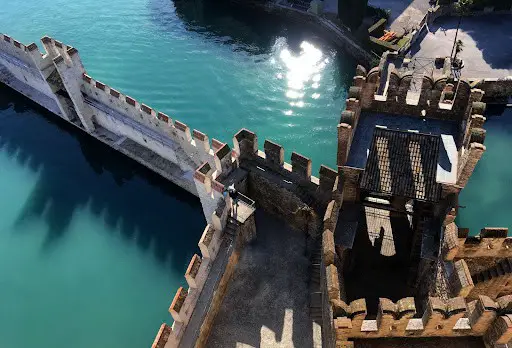 Sirmione is at the south of the river, on the tip of a peninsula that reaches out into Lake Garda.
Despite similarities with Malcesine, with its cobbled streets and a castle, it has its differences and is somewhere we recommend visiting from anywhere in Lake Garda.
You can take a walk around the walls of the castle, and we would also recommend heading to Piazza Giosuè Carducci, which is to the left of the castle upon entering. There are plenty of restaurants in the square and you can see the western side of Laka Garda from the square.
Bonus: Visit Gardaland Resort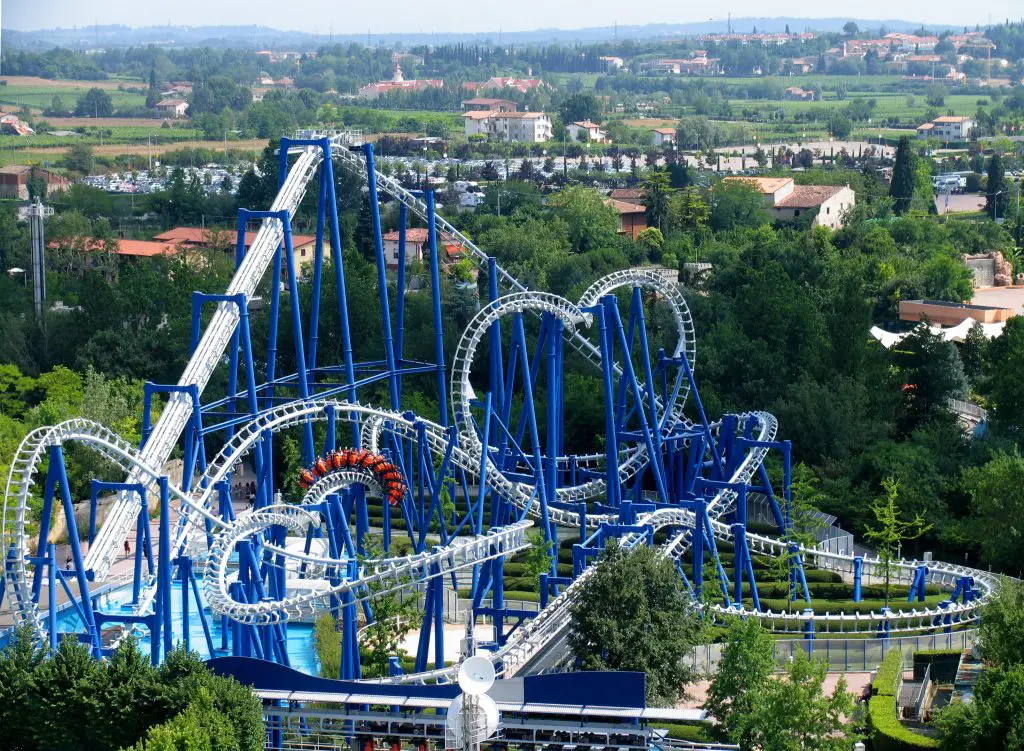 Gardaland is not strictly another town but if you are visiting Lake Garda with kids then Gardaland is definitely worth a visit.
Gardaland is situated in the south part of Lake Garda, in between Peschiera del Garda and Lazise. Gardaland is owned by Merlin Entertainments, the company that owns UK attractions such as Alton Towers, Legoland, and SeaLife. 
The Gardaland Resort includes Gardaland Park, Gardaland SeaLife, and Legoland Waterpark. Moreover, there is also a Gardaland hotel and the Adventure Hotel & Magic Hotel. 
Gardaland is considered one of the best theme parks in Europe, and around 3 million people visit per year.
To drive from Lake Garda to Gardaland takes around 1 hour, whilst the bus from Malcesine takes 1 hour and 26 minutes.
---
Visit A Nearby Italian City (Verona, Venice, or Milan)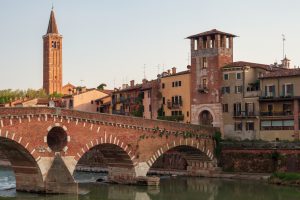 If you are staying in Malcesine and Lake Garda longer than a few days, we suggest taking a day trip from Lake Garda to Verona, Venice, or Milan.
All cities are accessible from Lake Garda, although they do require a fair amount of traveling time to get there. Driving times to the following from Milan are highlighted below:
Malcesine to Verona: 1 hour and 19 minutes
Malcesine to Venice: 2 hours and 21 minutes
Malcesine to Milan: 2 hours and 43 minutes
---
Summary
In summary, there's a lot to do in Malcesine. Even when you aren't doing anything in particular, having a drink by the harbour or taking a stroll through the cobbled streets is a great way to pass the time.
If you are visiting Malcesine for more than a few days, then there's also lots to do nearby, such as Gardaland, and the excellent public transport links mean you can easily explore the rest of Lake Garda and beyond.