Hiring A Boat On Lake Garda
If you want to get off the shores of Lake Garda and onto the lake itself, then you can hop on a Lake Garda ferry or take a boat trip.
Alternatively, you can explore Lake Garda at your pace by hiring a boat to drive yourself.
We've taken a look at some of the best places to hire a boat, as well as what different types of boats you can hire in Lake Garda.
Lake Garda Boat Hire
Do you need a boat license to hire a boat in Lake Garda?
You don't need a boating license to hire out boats that have under 40 horsepower in Italy.
If you don't have a license there are plenty of boats under 40 horsepower available to hire.
What Types Of Boats Can You Hire On Lake Garda?
You can hire a wide variety of different boats on Lake Garda. Below we take a look at some of the most popular boats that you can hire:
Pedalo
Motorboat
Luxury boat/yacht
Hiring a pedalo
If you fancy a good old-fashioned pedalo then there are a couple of good places on the lake we would recommend:
Noleggio Pedalo' e Taxi Boat – Riva del Garda
If you are staying in the northern part of the lake then getting a pedalo from Riva del Garda is a must.
Riva del Garda is nestled in the northern part of the lake and is surrounded by stunning mountains from the Italian Alps. This makes it the perfect place to hire out a pedalo and see the amazing views from the lake itself.
At Noleggio Pedalo' e Taxi Boat, you can hire two different types of pedalos.
One comes with 5 deck chairs on (perfect for relaxing in between pedaling!) and one type has a slide on (which is great if you fancy having a dip in Lake Garda!).
You can hire one for €15 for one hour, which is pretty reasonable.
Marchi Alice noleggio pedalo' e SUP – Bardalino
Marchi Alice noleggio pedalo' e SUP offers both pedalo's and paddleboards in Bardolino, on the southeast of the lake.
This area is vastly different from Riva del Garda at the north of the lake, but it still makes a great place to hire a pedalo or a paddle board.
You can hire a pedalo for €8 for 30 mins, €13 for 1 hour, or €23 for 2 hours.
Luxury boat hire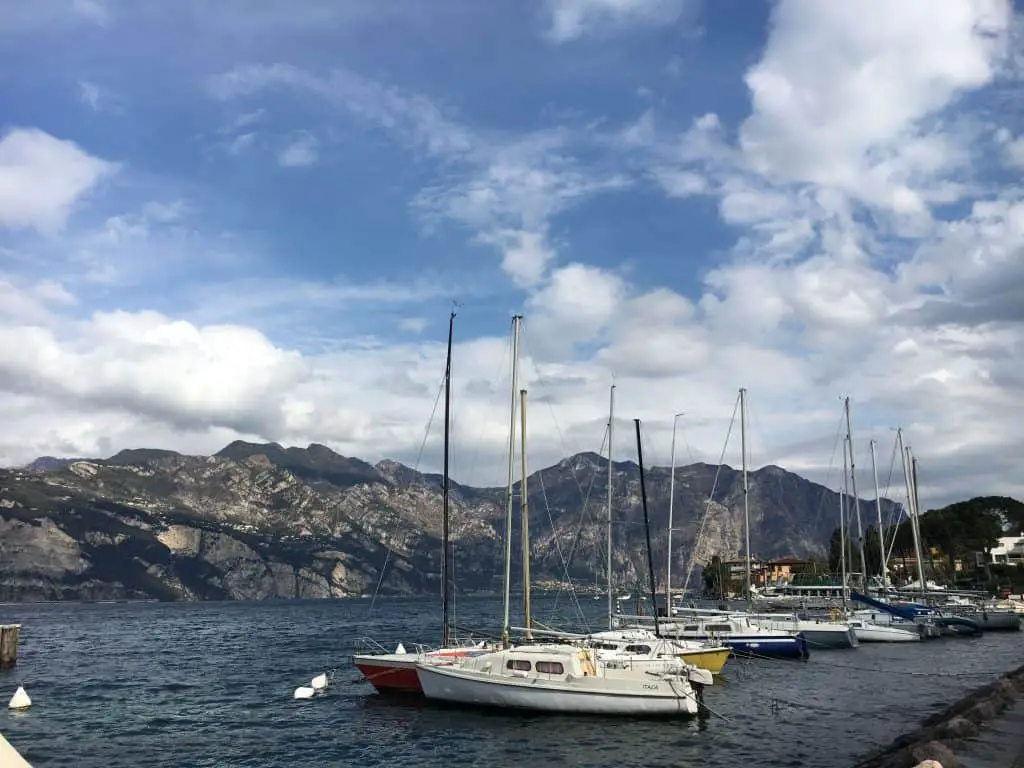 From luxury motorboats to yachts with skippers ready to sail you around, we can't think of many better things than cruising around Lake Garda in a luxury boat.
The majority of luxury boats require a boat license or require you to have a skipper on board for the duration of your rental.
Boat Garda, based in Bardolino and Castelletto, has a good range of luxury boats and yachts to hire. We would also recommend checking out peer-to-peer rental services (almost like an Airbnb for hiring boats), such as Sam Boat or Boataround.
Whilst these boats may be more expensive than hiring a simple motorboat, some of them fit up to 8 people, so if you are travelling in a group then the cost can be split between you.
Motorboat hire
There are numerous places across Lake Garda where you can hire motorboats.
One of the biggest companies is called Boat Garda, which is located in Bardolino & Castelletto.
Prices differ between the two locations as in Bardolino the fuel is included in the prices, whereas in Castelletto fuel is not included in the price, and needs to be paid separately.
When hiring a boat from anywhere in Lake Garda, make sure to check that fuel is included in the price or not, so you don't have any surprise payments to make when you arrive at the boat.
Example prices of a motorboat from Boat Garda with fuel included from Bardolino are as follows:
2 hours, low season: €135
2 hours, high season (1st June – 30th September): €145
You will also need to leave a deposit with the company as you take the boat out. The price of this deposit varies from company to company.
Lake Garda Boat Hire Prices
This depends on the type of boat you are hiring and where you are hiring it from, but we've researched the average prices of each:
Pedalo: €13 – €15 per hour
Motorboat: from €80 – €320 per hour
Luxury boat hire: €600 – €1200 per day
Sailing boat:
Lake Garda Boat Hire FAQs
Can you moor your hired boat anywhere in Lake Garda?
The majority of ports in the bigger towns let you park your boat for a small fee (although some are free). If you hire a boat for the full day then we would recommend stopping off at various places at your leisure – but just make sure you leave enough time to get back before the end of your rental time.
Why hire a boat on Lake Garda?
Whilst taking a ferry on Lake Garda is a good way to go from A to B, there's nothing quite like having the freedom to explore this stunning lake with your own boat. It can also be a great thing to do in Lake Garda with kids, especially if you have older kids.
---