Lake Garda is a great destination for all types of holidays, and you might think initially it isn't the best place to go with kids. But actually, there are a lot of things to do in Lake Garda for children. Here's our guide for families visiting Lake Garda.
The Best Things To Do In Lake Garda With Kids
Legoland Water Park
Gardaland SeaLife
Jungle Adventure Park
Caneva Aquapark
Caneva Movieland
Visit Historic Villages & Castles
Nicolis Museum of Villafrance
Is Lake Garda Suitable For Kids?
Yes, Lake Garda is suitable for kids. There are multiple theme parks and attractions, as well as plenty of interesting and historical buildings to visit right around the lake. Lake Garda is also full of world-class pizza and ice cream, which is enough to keep most kids happy!
---
Gardaland Resort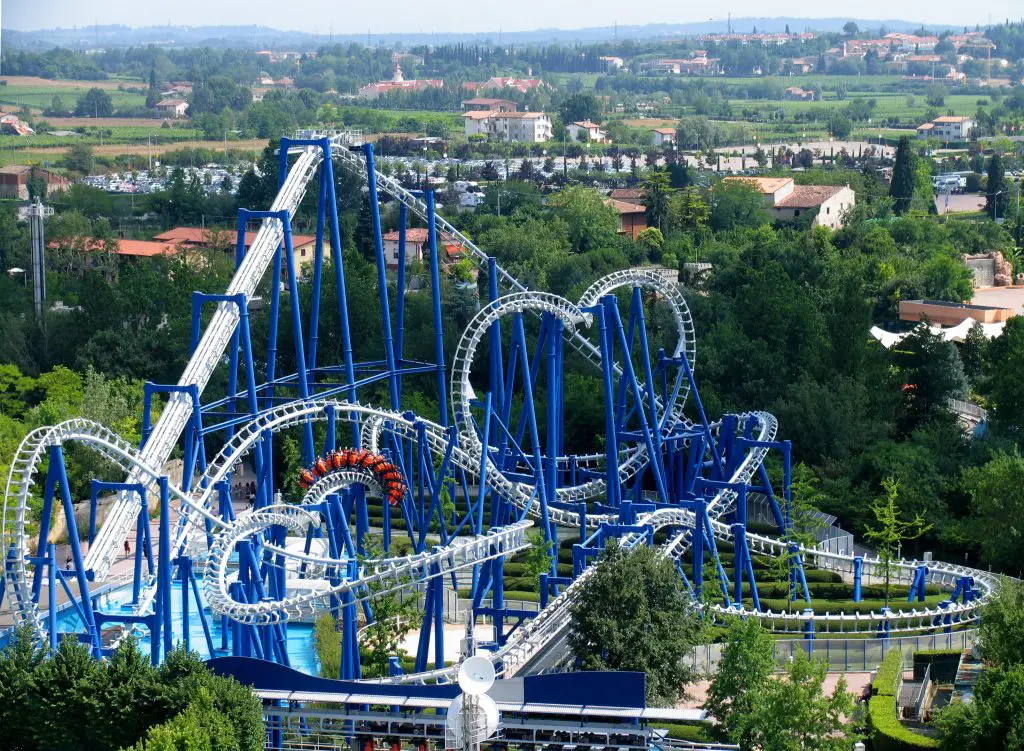 Look no further than Gardaland. 
Gardaland is situated in the southern part of Lake Garda, in between Peschiera del Garda and Lazise. Gardaland is owned by Merlin Entertainments, the company that owns UK attractions such as Alton Towers, Legoland and SeaLife. 
The Gardaland Resort includes Gardaland Park, Gardaland SeaLife and Legoland Waterpark. There is also a Gardaland hotel and the Adventure Hotel & Magic Hotel. 
Gardaland is considered one of the best theme parks in Europe, and around 3 million people visit per year.
How many rides are in Gardaland Park?
There's a total of 32 rides in Gardaland, with 7 rollercoasters, 3 water slides, and numerous family rides and shows, meaning there's something for everyone at Gardaland.
When is Gardaland open?
During the peak season and summer months, Gardaland is open every day from 10 am – 6 pm. During the winter months, it is open on the weekends at various opening times. 
You can check the opening times on the official Gardaland site here.
How much are tickets to Gardaland?
When buying a ticket online, entry to Gardaland is €40. If you want to visit the other attractions within Gardaland, such as Legoland Water Park or SeaLife, you can buy combination tickets. 
Entry to Gardaland: €40
Entry to Gardaland + Legoland Water Park: €60 (this allows you to visit both Gardaland and Legoland Water Park in one day, and then Gardaland on another day)
Entry to Gardaland + SeaLife: €45 (you can either visit both attractions on the same day or visit on consecutive days)
You can purchase official tickets from the Gardaland website here. 
You can read more about Legoland Water Park and SeaLife in Gardaland below.
Legoland Water Park (In Gardaland)
Gardaland's Legoland water park opened in 2021, and is Europe's first-ever Legoland water park. 
The water park has 8 main themed areas, which include; 
Miniland – Lego models of some of Italy's best landmarks. 
Beach Party – A splash zone with slides and a lego tipping bucket. 
DUPLO Splash – A splash zone like the above but for little ones. 
Lego River Adventure – A lazy river that runs around Miniland (it isn't a real water park without a lazy river, is it!?)
Jungle Adventures – Water tube slides – the best part of the park!
Jungle Oasis – A splash pad with water fountains that shoot up from the ground 
Pirate Bay – A swimming pool where the family can relax Lego Creation Island – An interactive, creative space where you can build Lego boats to race or build Duplo structures to see how they withstand jets of water.
Gardaland SeaLife
Gardaland SeaLife is home to over 5,000 sea creatures from a hundred different species. You can discover the creatures of nearby freshwater Lake Garda right through to the creatures of the deepest oceans. 
SeaLife is always a good day out and for an extra €5 when purchasing a combination ticket with Gardaland it's well worth the money.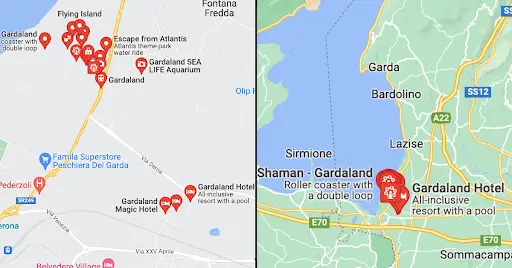 ---
Jungle Adventure Park
If it's an adventure you're looking for, then Jungle Adventure Park is the perfect family day out. You can swing from tree to tree and take on the numerous courses and routes the park has to offer. 
If you have smaller children then there are specific routes designed for little ones, with 'The Baby Park' designed for children ages 3-6. There's also a children's play area on-site too. 
It is situated in San Zeno di Montagna, just inland of Lake Garda on the East side of the lake. From Garda (the town) it is around a 17-minute drive, to give you a rough estimate of distance and driving times.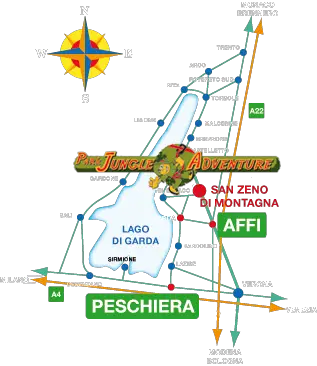 Bonus Tip: San Zeno di Montagna offers fantastic views of Lake Garda, and on a clear day you will be able to see both the northern and southern tips of the lake.
---
Caneva Aquapark
Caneva Aquapark is part of Caneva World Resort, which consists of Caneva Aquapark and Caneva Movieland (more information on this below).
The Caneva Aquapark is a Caribbean-themed water park with plenty of water slides, relaxation areas, and a great amount of food and drink options. 
If you have younger children, there is a children's water play area called Windy Lagoon which has little water slides, a pool, and some splash play. 
The water slides are impressive, and there are enough of them to keep you and your family busy all day. Our favourite slides here are Volcan Kamika and Stukas Boom – they are not for the faith-hearted!
There is a fake Caribbean beach in the relaxation area, as well as multiple swimming pools (one with a wave machine), a lazy river and you can even hire a private Cabana which includes a private jacuzzi!
It's not far from Gardaland and is located between Peschiera del Garda and Lazise.
Caneva Aquapark opening times & prices
Caneva Aquapark is open from 10:00 – 18:00 daily and is open during the summer months (May – September). 
The prices for the waterparks are as follows:
Adult: €30
Child (100cm > 140cm): €25
Children under 100cm are free 
If you wish to go to both Caneva Aquapark and Caneva Movieland, you can purchase tickets together at discounted prices. You can also purchase weekly tickets which give you access to both parks for a full week. 
You can see the latest opening times and ticket prices on the CanevaWorld site here.
---
Caneva Movieland
CanevaWorld Movieland is a hidden gem in Lake Garda. 
There are 20 rides & attractions, over 10 live-action shows (the timetable varies depending on when you visit), and 4 different movie sets for you to walk through and experience. 
The live-action shows are not to be missed and there's plenty to do for children (and adults!) of all ages!
Caneva Movieland opening times & prices
Movieland is open everyday from 10:00 – 18:00 in the summer months, whilst it is open on weekends in October for Haloween. 
They also have special evenings where the park is open later on in the evenings.
The prices for Movieland are as follows: 
Adult: €30
Child (100cm > 140cm): €25
Children under 100cm are free 
Just like the waterpark tickets, you can purchase combination tickets for both Caneva Movieland and Caneva Aquapark at a discount. 
You can find all the opening times and prices here.
---
Cable Car Up To Monte Baldo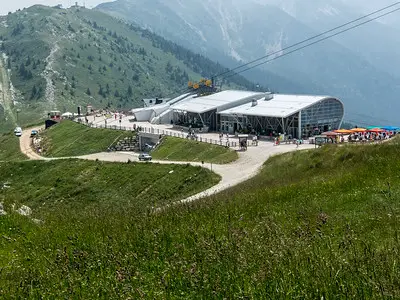 Taking the cable car from Malcesine up to Monte Baldo is a must for anyone who visits Lake Garda, but especially for those with kids. 
The ride up in the cable car is fun in itself – but the views when you get up there make it worthwhile for everyone. 
The cable car is open all year round and has two stations that go right up to the top of Monte Baldo. The first station is situated in Malcesine, whilst the second, San Michele is higher up the mountain.
Your best bet is to get the cable car from the Malcesine station. It's much easier to get to from anywhere on the lake and there are more parking options.
The prices for the cable car are listed below;
| | |
| --- | --- |
| Return Ticket – Full Price | One Way – Full Price |
| Malcesine – Monte Baldo – €25.00 | €17.00 |
| Malcesine – San Michele (second station) – €10.00 | €6.00 |
| San Michele – Monte Baldo – €25.00 | €17.00 |
| | |
| --- | --- |
| Return Ticket – Juniors (under 14) | One Way – Juniors |
| Malcesine – Monte Baldo – €15.00 | €12.00 |
| Malcesine – San Michele (second station) – €8.00 | €5.00 |
| San Michele – Monte Baldo – €15.00 | €12.00 |
What to do at the top of Monte Baldo
Once you're at the top of Monte Baldo, you are greeted with the most mesmerising views of Lake Garda and beyond. 
There are numerous hiking trails you can take, and you can even book private hiking tours if you wish.
---
Visit Historic Villages & Castles In Lake Garda 
Lake Garda is full of mesmerising architecture that adults and children can equally enjoy.
There are numerous spots around the lake that make for great sightseeing with the family, but here are some of our favorites.
Visit Sirmione & Scaliger Castle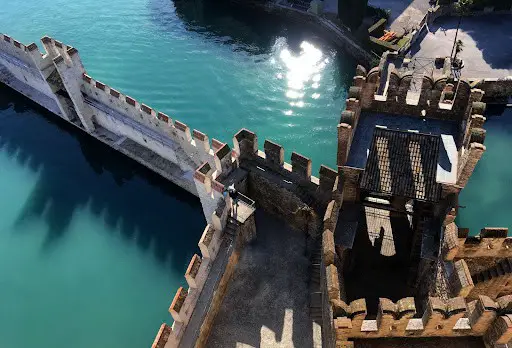 Sirmione is a stunning town at the southern tip of the lake. Sirmione is actually a peninsula that stretches out into Lake Garda.
As you travel down the peninsula and head into Sirmione you are greeted with the castle, which was built in the 12th century to defend the town and the surrounding area of Verona. 
You can take a walk around parts of the castle, including around some of the walls and towers, which offer some good views of Sirmione and Lake Garda itself. 
When you carry on over the bridge and through the castle and into Sirmione itself, you will be met with plenty of bars and restaurants which line the cobbled streets.
We would recommend heading to Piazza Giosuè Carducci, which is to the left of the castle upon entering. There are plenty of restaurants in the square and you can see the western side of Laka Garda from the square.
Malcesine Castle
Malcesine is another town with a famous castle on Lake Garda. The castle is open from April – October each year, with entrance costing;
Adults – €6
Reduced (over 65 & 14-18-year-olds) – €5
Kids (6-13 year olds) – €3
0-5 year olds are free
Once in the castle, you can climb right to the top of the tower, which offers fantastic views of Malcesine and Lake Garda.
---
The Nicolis Museum of Villafranca
This suggestion is a slight curveball as it's further inland than Lake Garda, but if you have children who love cars then this museum would be well worth the trip. 
Situated in Villafranca di Verona (about a 22-minute drive from Peschiera del Garda), the museum hosts hundreds of classic cars, motorcycles, airplanes and even cameras and typewriters. 
The museum chronicles the story of how transport has evolved over the last 2 centuries and displays some of the finest cars to help tell the story. 
There's even a Formula 1 section that has a large collection of F1 steering wheels and race suits. 
The museum costs €14 for adults and €12 for children under 16. 
You can find the full collection, full price list, and opening times on the museum's website here.
---
Our Summary
In summary, there are a lot of things you can do in Lake Garda with your family! Lake Garda has a little bit of everything, which makes it the perfect destination for a holiday. You can also do day trips to Verona, Milan and Venice if you want to experience a bigger Italian city.