So, you've heard Malcesine is the perfect picturesque Italian town nestled on the shores of Lake Garda, with cobbled streets, a historical castle, amazing food & drink, all whilst sitting in the shadow of the Italian Alps, right?
And now you're looking for more information.
Well, with this guide, we've got you covered. Here's everything you need to know about Malcesine and more…
Malcesine, Lake Garda – Our Complete Guide
How To Pronounce Malcesine
Malcesine can be tricky to say, and the first thing you need to know when you're going somewhere is how to say it.
Pronunciation: mal-cheh-suh-nay
Where Is Malcesine?
Malcesine is situated on the northeastern shores of Lake Garda. Whilst Lake Garda is split across three regions, Malcesine is located in the region of Veneto.
Getting To Malcesine
[jump to Things To Do In Malcesine]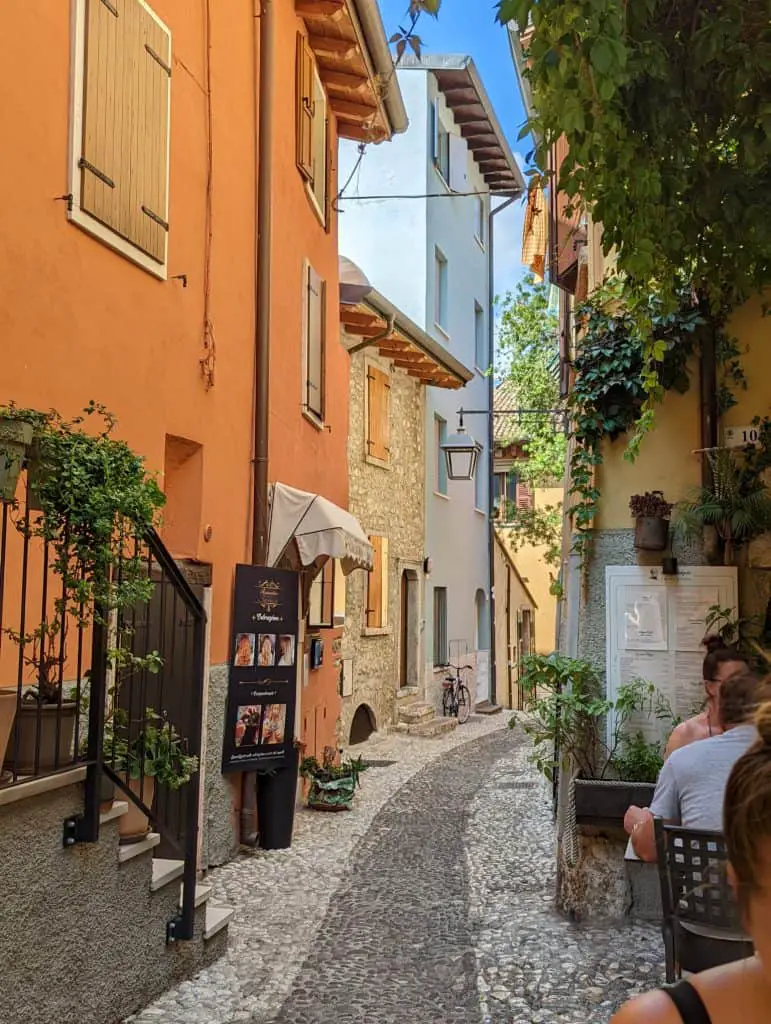 Getting to Malcesine might seem like a tricky task, but it's fairly straightforward. You've got three main options;
Taxi or private transfer
Public transport
Hire car
The best option mainly depends on where you are flying in from, as travel times and the cost of travel greatly vary.
Taxi or Private Transfer
You can get a taxi or private transfer directly to Malcesine from Verona Airport. Verona Airport is the closest airport to Lake Garda and Malcesine, and it's close enough for you to get a taxi or private transfer at a reasonable price.
| | | | |
| --- | --- | --- | --- |
| Airport | Taxi | Private Transfer (4 people) | Private Transfer (5-7 people) |
| Verona Airport | €70 – €85 | €100 | €145 |
Price accurate of 14th September 2022. Prices and quotes may change.
Public Transport
If you want to save a bit of money then you can use public transport to get to Malcesine, but it does take slightly longer.
From Verona Airport, which is the nearest airport to Lake Garda, you can get a train directly from the airport to Peschiera del Garda.
From here, you can take the 164 bus to Garda, then the 484 bus to Malcesine. You can also get the ferry from Peschiera del Garda to Malcesine. This is a great way to see the lake but it does take around 2 hours so keep that in mind if you have had a long journey and just want to get to your hotel.
If you are flying into other airports, such as Milan Malpensa or Bergamo Airport, you can still get a train from the above, via Milan Centrale Train Station, to Peschiera del Garda.
Hire Car
Hiring a car is one of the most popular ways people reach Lake Garda, especially when flying into airports that are further away (such as Bergamo or Malpensa).
Not only can it work out cost-effective compared to private transfers, but it also means you have a hire car for the duration of your holiday which you can use to explore Lake Garda and the surrounding areas.
Discover more: If your accommodation in Malcesine doesn't have parking, then read our guide on parking in Malcesine.
---
Things To Do In Malcesine
You definitely won't get bored whilst you're staying in Malcesine. There are plenty of things to do and places to explore. Here are some of the things you simply must do;
Quick Guide – Things To Do
Monte Baldo Cable Car
Visit Malcesine Castle
Enjoy the food & drink
Visit a beach in Malcesine
Explore Lake Garda by boat
Take a day trip to Verona
1. Monte Baldo Cable Car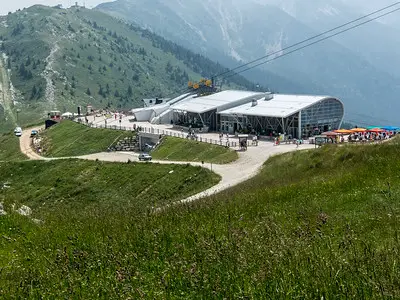 Monte Baldo is part of the Italian Alps, and it shadows Malcesine from the east. The summit offers spectacular views of Lake Garda, plenty of walking trails, and cafes and restaurants complete with a view.
The cable cars run from Malcesine to the summit of Monte Baldo. The cable cars themselves rotate 360 degrees, which allows for some amazing views and pictures as you ascend and descend the mountain.
2. Visit Malcesine Castle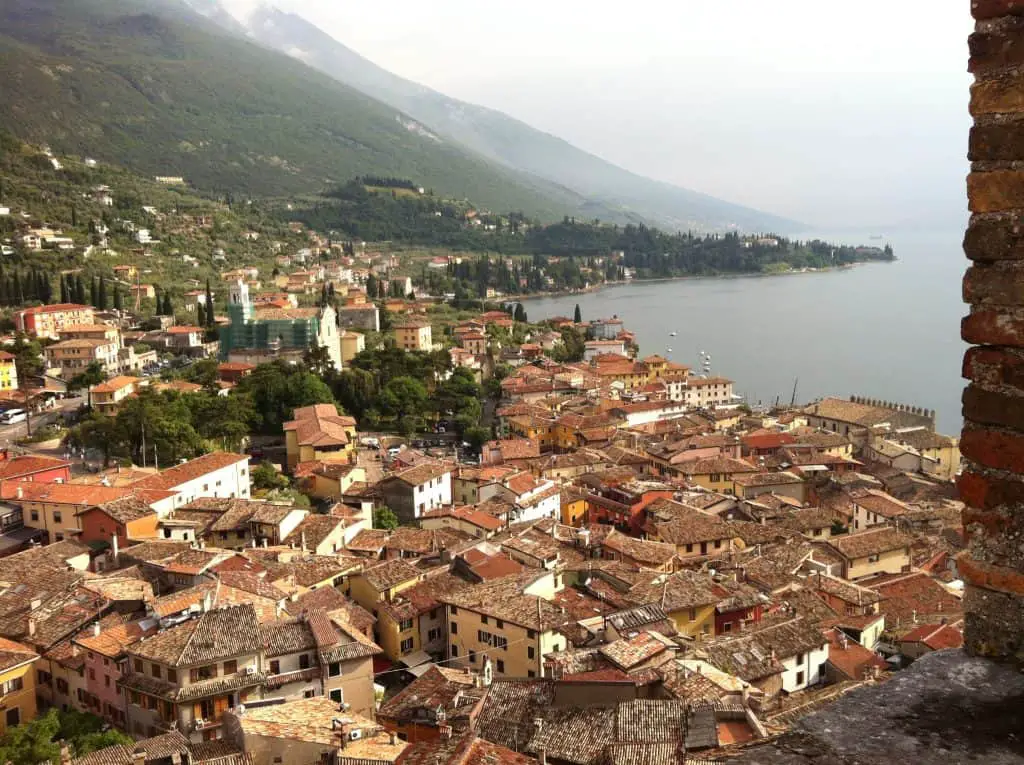 The Malcesine Castle is an iconic landmark that sits alongside the shores of Lake Garda. The castle that stands today dates all the way back to the 13th century.
You can purchase a ticket to go into the castle (adult tickets are as low as €6). We would fully recommend going itno the castle to learn about some local history, as well as taking in the sights of Malcesine and Lake Garda once you have climbed up to the top viewing point.
3. Enjoy the food & drink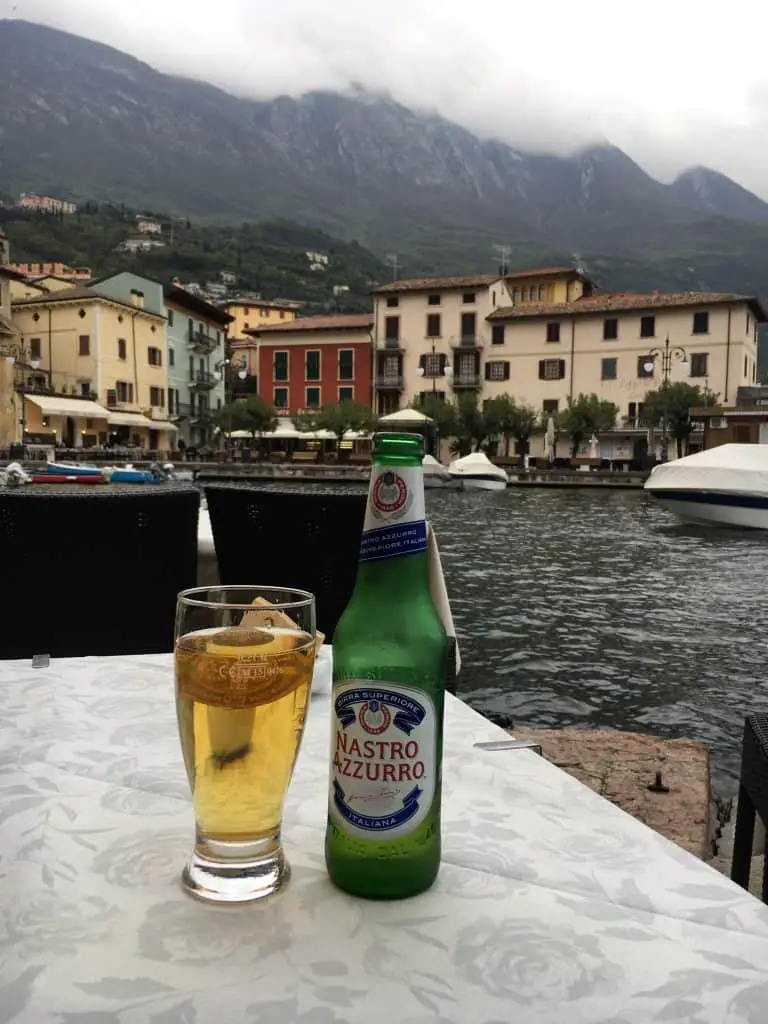 You won't be surprised to find out that Malcesine is home to some fantastic bars and restaurants that offer authentic Italian dishes.
Here are some of our favourite restaurants:
Ristorante Italia da Nikolas – sitting right on the harbour in Malcesine, you can watch the world go by and enjoy some lovely food and drink
La Bottega del Vino – almost hidden away and quite easy to miss, this is a real authentic family restaurant (make sure you try the baked Gnocchi!).
Ristorante Pizzeria Garden – fantastic food and an even better outside seating area right on the edge of Lake Garda.
4. Visit a beach in Malcesine
Believe it or not, there are plenty of beaches around Lake Garda, and there are a few in Malcesine too.
Posternia Beach
Postertnia beach is a small but charming beach located directly underneath Malcesine Castle.
It's not a sandy beach and the rocks around it are quite rough – so don't expect to be sunbathing – but it's worth exploring and it makes for a great photo!
Paina Beach
Paina beach is located just north of the castle and is roughly a 5-7 minute walk from the center of Malcesine.
5. Explore Lake Garda by boat
Exploring Lake Garda by boat is a fantastic way to take in the breathtaking views the lake has to offer, and it's a great way to visit the other towns alongside Lake Garda too.
There's a regular ferry from Malcesine that goes north to Riva del Garda, across to Limone, or south towards the rest of the lake.
There are numerous boat trips available from Malcesine that will take you to various towns and sights on Lake Garda. You can buy tickets for these at Malcesine harbour.
6. Take a day trip to Verona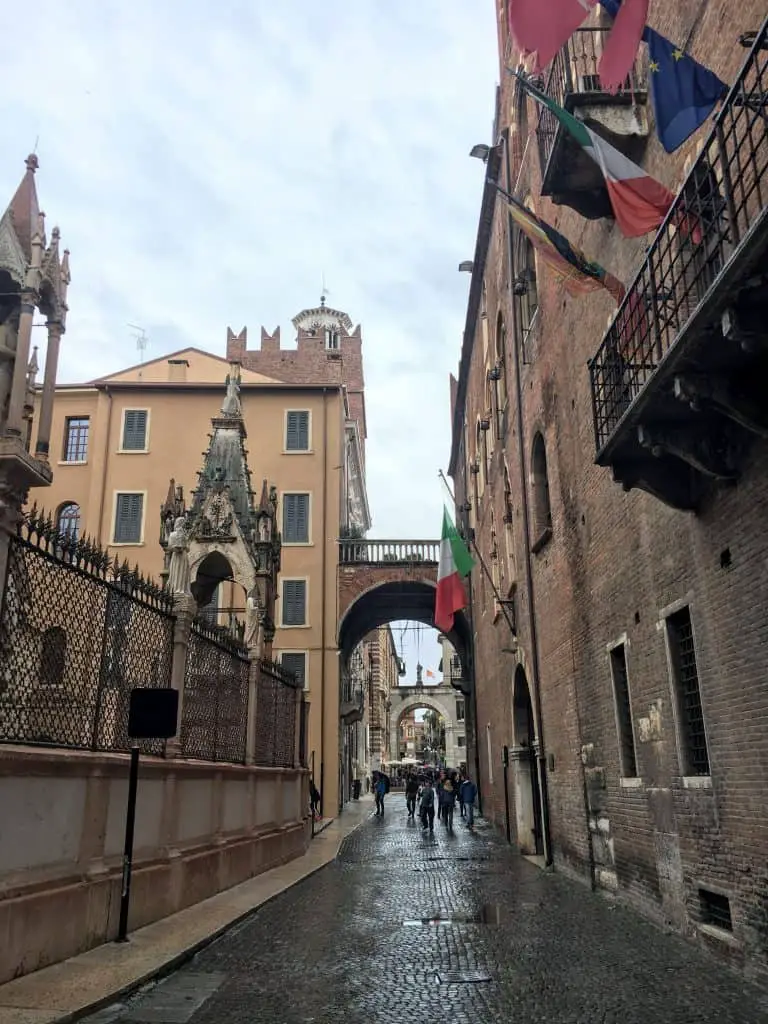 Whilst there's lots to do and see in Malcesine and Lake Garda itself, we would recommend visiting Verona if you are staying for more than 5 days.
The drive from Malcesine to Verona only takes between 1 hour 15 minutes – 1 hour 30 minutes, and there are quite a lot of affordable parking options in Verona city center.
If you don't have access to a car, then you can get the train to Verona from Peschiera del Garda. The train from Peschiera del Garda to Verona Porta Nuova station only takes between 14 – 19 minutes and can cost as little as £3.22, depending on what train you get.
You can get a bus from Malcesine that goes to Peschiera del Garda. We'd recommend checking the latest bus timetables & routes before you plan this journey.
Places To Stay
[jump to Weddings In Malcesine]
There's a hotel for everyone in Malcesine. From luxury hotels, family-friendly hotels, and budget hotels right the way through to holiday rentals on Airbnb.
Here are some hotels we would recommend:
Central location in Malcesine with a five-star rating on Tripadvisor.
Hotel Diana is situated just behind the main road that runs through Malcesine. It has an outdoor pool (which is a big plus for Malcesine), whilst some balconies have a view of Lake Garda.
Hotel Alpino is situated in front of the main car park in Malcesine. The hotel is a little basic compared to others, but it's very reasonable for a central hotel.
If you're after a luxurious hotel in Malcesine, then Hotel Vega is the one for you. Hotel Vega has its own private beach, as well as a private terrace that stretches out over Lake Garda.
Hotel Vacanze is slightly further out than other hotels on this list, but it's still within walking distance from Malcesine. The hotel has a car park and an outdoor swimming pool, which aren't usually available in central hotels.
6. Ambienthotel Primaluna
Located north of Malcesine Castle and just above Paina Beach, the Ambienthotel Primaluna is a luxury hotel with fantastic views of the castle and Lake Garda.
7. Hotel Castello Lake Front
Hotel Castello Lake Front is nestled underneath Malcesine Castle. All the rooms feel modern and luxurious, and whilst there's no swimming pool there is a grassy area with sunbeds facing Lake Garda.
If you don't mind staying further out to get a slightly better deal, then Hotel Villa Orizzonte, located in Val di Sogno, could be the ideal hotel for you.
It takes around 30 minutes to walk into Malcesine, or 5 minutes to drive.
Weddings In Malcesine
[Malcesine Weather & Best Time To Visit]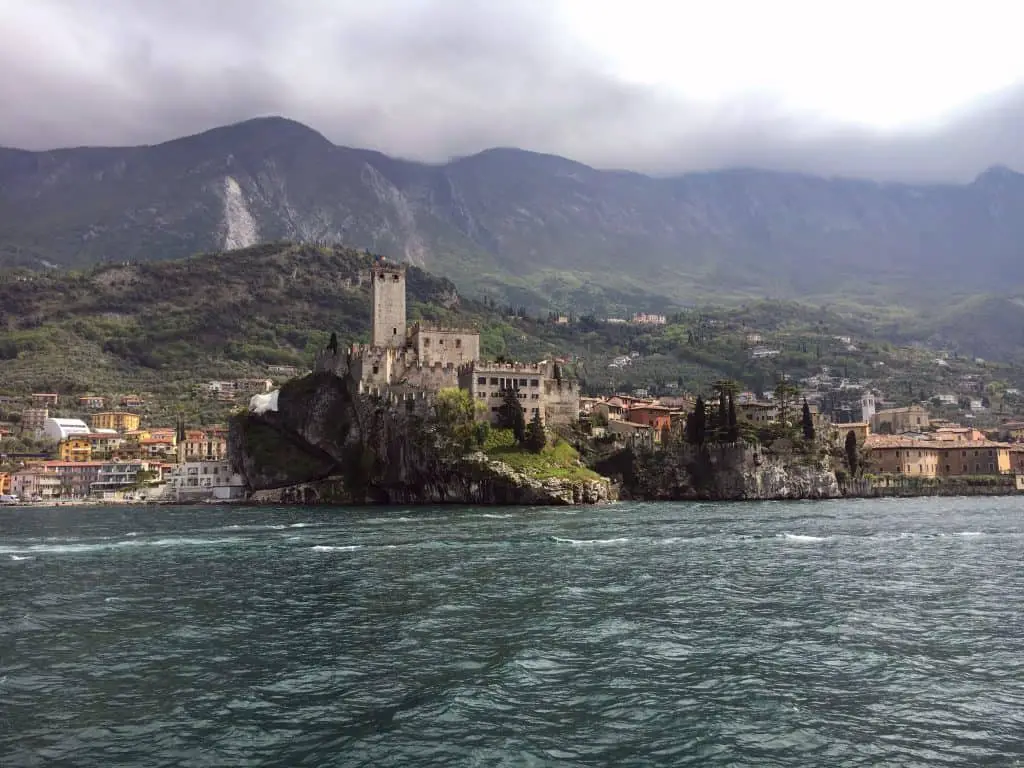 Malcesine, and more specifically Malcesine Castle, is an extremely popular place for people to get married.
You can either hire out a room in the castle, or a terrace on the castle that looks over Malcesine and Lake Garda. Many people then hire a private boat to host a drinks reception as you sail around Lake Garda, and then enjoy a meal with guests at one of the many restaurants in Malcesine.
Malcesine Weather & Best Time To Visit
The summer months are the best time to visit if you are aiming for the best weather. If you want to avoid the crowds but still have pleasant weather, we would recommend visiting Lake Garda and Malcesine in April, September, or October.
| | | | |
| --- | --- | --- | --- |
| Month | Average Temperature | High | Low |
| January | 1°C | 5°C | -2°C |
| February | 3°C | 8°C | 0°C |
| March | 8°C | 12°C | 4°C |
| April | 12°C | 16°C | 8°C |
| May | 17°C | 21°C | 12°C |
| June | 20°C | 25°C | 16°C |
| July | 23°C | 27°C | 18°C |
| August | 22°C | 26°C | 18°C |
| September | 18°C | 22°C | 14°C |
| October | 13°C | 17°C | 10°C |
| November | 7°C | 10°C | 4°C |
| December | 2°C | 6°C | 0°C |
Malcesine History & Key Facts
The earliest recorded evidence of settlers in Malcesine dates back to around 500 BC. In 15 BC, Malcesine and the surrounding area were under the rule of the Roman Empire.
Malcesine Castle was first built in either the 5th or 6th century by the Langobards, it was destroyed and then rebuilt again until it came under the ownership of the Scaliger family, to whom it is still named after today.
Key Facts
Population: 3,616 (source)
Region: Veneto
Province: Verona (VR)
---