If you're looking to stay in Malcesine during your holiday in Lake Garda, we've compiled a list of the best hotels in Malcesine for you.
We've got some budget-friendly options, hotels with swimming pools, and a couple of luxury options in case you want to treat yourself!
1. Hotel Dolomiti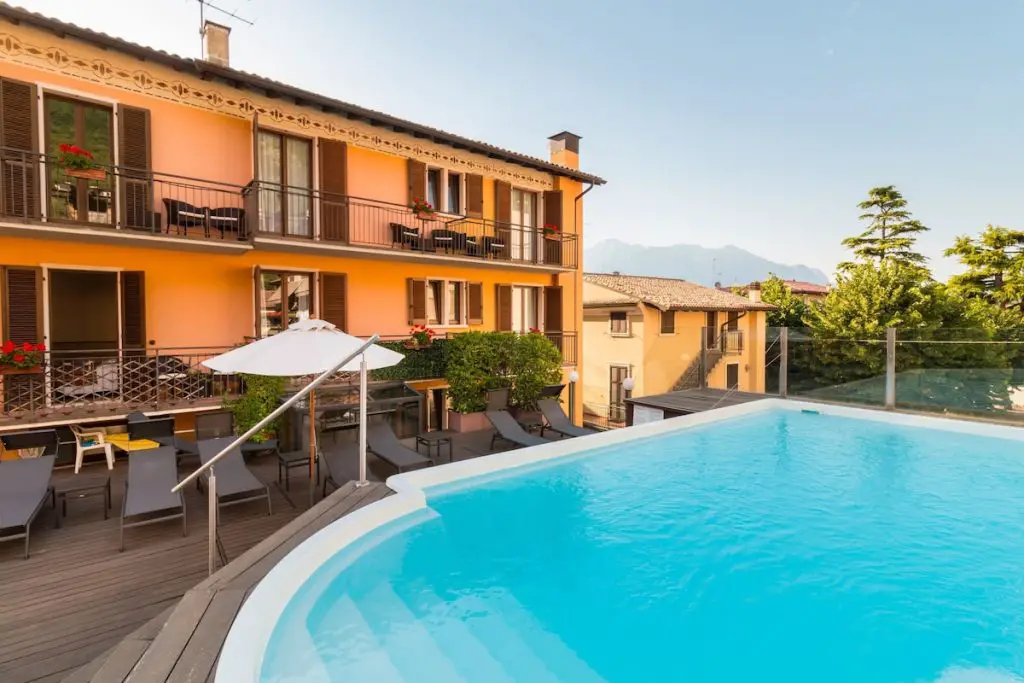 Hotel Dolomiti is pretty much the perfect hotel if you're looking for a hotel in central Malcesine. It's got a five-star rating on Tripadvisor and is close to Malcesine Castle, the harbour, and all the bars & restaurants Malcesine has to offer.
The hotel offers free parking (which is a big plus for Malcesine), as well as a sun terrace complete with a swimming pool. There's also an option to book an apartment-style room within this hotel which has cooking facilities in the kitchen.
2. Hotel Diana
Hotel Diana is situated just behind the main road that runs through Malcesine, and it is just a couple of minutes walk into the center of Malcesine.
There is an outdoor swimming pool, a restaurant, and some of the rooms have balconies with views of the lake.
The price changes depending on the time of the year but in comparison to the other hotels in Malcesine, the pricing is reasonable.
3. Hotel Alpino
Situated just by the main square and car park in Malcesine (where the market is held on Saturday), Hotel Alpino is another great option if you want a central location in Malcesine.
Some of the rooms are fairly basic but it is a slightly cheaper option than some of the other hotels in Malcesine.
Parking is included and you get free access to wifi. There's also a restaurant in the hotel which is perfect for grabbing some breakfast or having a drink or two before heading back to your room.
4. Hotel Vega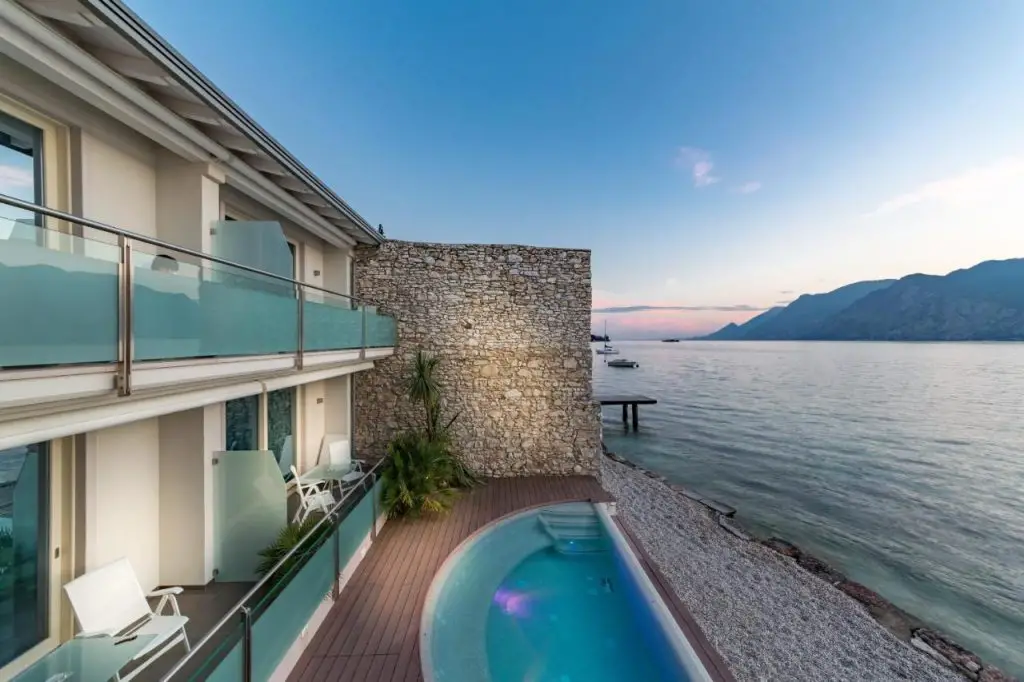 If you are looking for something luxurious during your stay in Malcesine, then look no further than Hotel Vega.
Obviously luxury comes with a higher price tag but you do get access to your own beach and some rooms come with their own private terrace stretching out onto Lake Garda – so the higher price is worth it!
Alongside all of that, you get breakfast included, free private parking and it's in a great location (just a 2-3 minute walk to the harbour).
5. Hotel Vacanze 2000
Hotel Vacanze 2000 is a little bit further out of Malcesine than the other hotels on this list, but it's still within walking distance (it's actually a lovely stroll along the side of the lake into Malcesine).
The benefit of staying a little further out is that you get a little more for your money, plus the area in which Hotel Vacanze is situated is very peaceful.
Parking is provided for those travelling by car, and there is a swimming pool with multiple sun loungers, so if you want to take things a little slower whilst in Malcesine, we would recommend this hotel as an option for you.
This hotel is adults-only, so if you are travelling to Malcesine with kids, then unfortunately this hotel isn't for you.
6. Ambienthotel Primaluna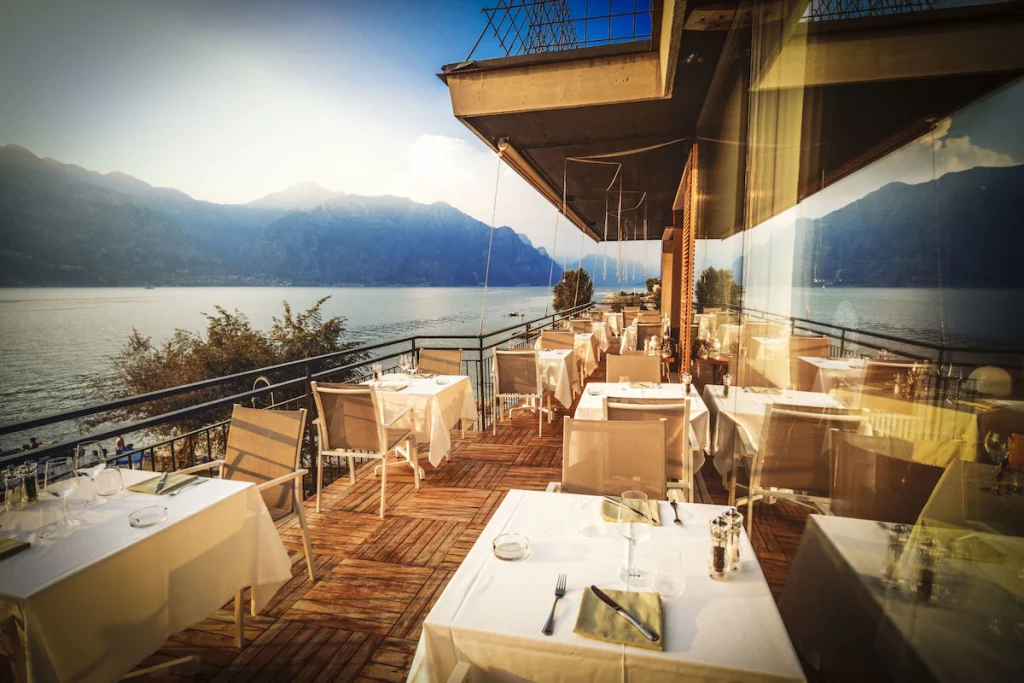 Another luxurious and slightly more expensive option on this list, the Ambienthotel Primaluna is definitely one to consider if you want to pay a little bit more for some luxury.
The hotel is north of the castle, just above Paina Beach. It's roughly a 10-minute stroll into Malcesine, so it's easily accessible despite it not being as central as other hotels in Malcesine.
There's an outdoor pool on a terrace that overlooks Lake Garda, as well as a hot tub and a separate children's pool. There's also a restaurant that has terraced outdoor seating overlooking the lake.
The rooms have a very modern feel, you get free breakfast each morning and there's a beach directly in front of the hotel – what more could you ask for?
7. Hotel Castello Lake Front
Another hotel that is located north of the castle in Malcesine is Hotel Castello Lake Front. Situated right underneath Malcesine castle, this hotel is only a 5-minute walk into the center of Malcesine.
Free parking is available at this hotel, but unlike Ambienthotel Primaluna listed above, there is no swimming pool.
There is, however, a grass area at the back of the hotel with sun loungers and great views of Lake Garda. Some rooms also have a private terraced area with sun loungers and hot tubs.
All of the rooms are very modern and more luxurious than some of the other hotels in the center of Malcesine.
8. Hotel Villa Orizzonte
If you're looking for a slightly cheaper option then Hotel Villa Orizzonte might suit you best.
Technically it's located in Val di Sogno, which is about 2.3k from Malcesine. If you were to walk from the hotel into Malcesine, then it would roughly take about 30 minutes. Driving into Malcesine only takes 5 minutes.
One of the plus sides of staying further out is you get a little bit more peace and quiet. The hotel has a lovely outdoor pool and wonderful views of the lake and mountains (some rooms look over the lake).
If you have access to a car whilst visiting and don't mind driving into Malcesine, then we would recommend taking a look at this hotel (or others a bit further out) as you do get more value for money.
Summary & Map Of Recommendations
In summary, there's a wide range of hotels on offer in Malcesine. We've covered a range of hotels to suit different needs, from central locations with free parking to luxurious options and more budget-friendly options.
Below is a map with all the hotels we've mentioned above highlighted:
Things To Do In Malcesine
Now that we've shown you the best hotels in Malcesine, we've got some quick tips on things to do in Malcesine when you get there!
Visit Malcesine castle
Take a trip up Monte Baldo on the cable car
Explore the cobbled streets
Enjoy the beautiful food (and wine!)
Take a boat trip to see other towns in Lake Garda
Take in some of the local surroundings
Take a day trip to other towns in Lake Garda (with our recommendations)
Visit a nearby Italian city (Verona, Venice & Milan)