Malcesine is the perfect destination for a holiday. With perfect cobbled streets, plenty of things to do, and a great choice of restaurants. But one of the best things about Malcesine is the castle (Scaliger Castle).
There's no surprise then that when people look for a hotel in Malcesine, they want to find one near the castle.
Read on to find our favourite hotels situated right next to Scaliger Castle.
1. Hotel Castello Lake Front
Hotel Castello Lake Front is situated underneath the castle and, as the name suggests, it's also right on the shores of Lake Garda.
It's a 5-minute walk into the center of Malcesine, and the hotel also offers free parking for hotel guests (which is a big plus as it can be difficult parking in Malcesine).
Whilst there is no swimming pool, there is a grass area at the back of the hotel with sun loungers and great views of Lake Garda. Some rooms also have a private terrace area with sun loungers and hot tubs.
All of the rooms are very modern and more luxurious than some of the other hotels in the center of Malcesine.
2. Ambienthotel Luna Rossa
The hotel is situated next to the castle, but unlike the other hotels on the list, it's more towards the central part of Malcesine.
There is an outdoor swimming pool (complete with hot tub) and free parking is available, along with free wi-fi and air conditioning.
The rooms aren't the most modern but this hotel is very good value for money when you compare it against the other hotels in Malcesine – especially if you are looking for something so close to the castle.
3. Ambienthotel Primaluna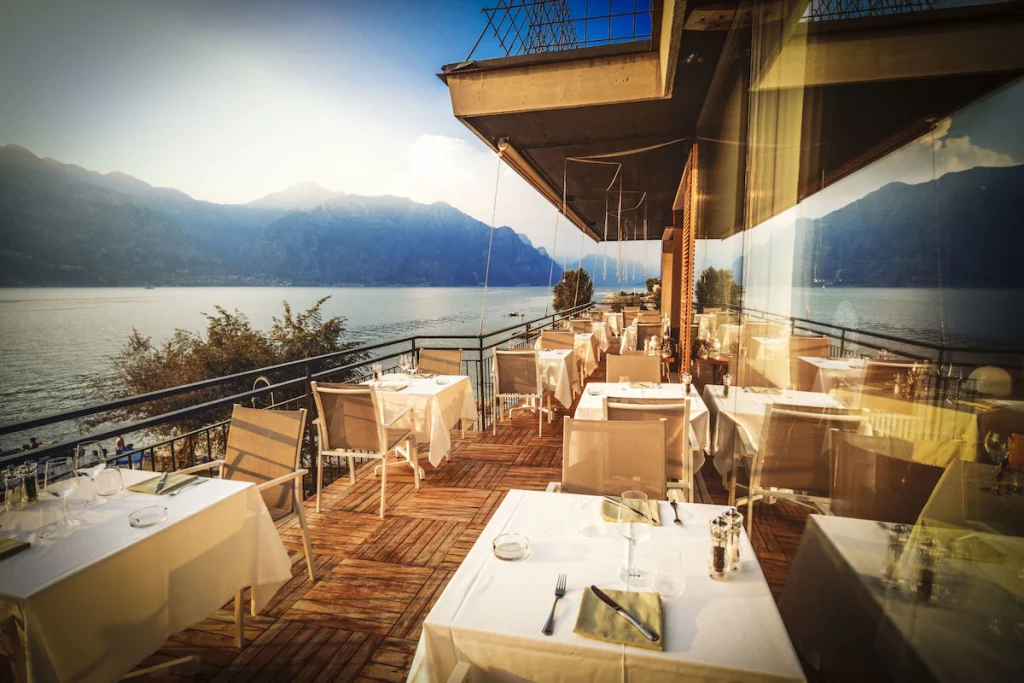 The Ambienthotel Primaluna hotel is located just north of the castle, just above Paina Beach.
You get great views of the castle from this hotel, along with a restaurant that has terraced outdoor seating overlooking the lake and an outdoor pool that overlooks Lake Garda.
This is a more luxurious and slightly more expensive hotel than the others in Malcesine – but it's definitely worth the money if you wanted to treat yourselves!
It's roughly a 10-minute stroll into Malcesine, so it's easily accessible despite it not being as central as other hotels in Malcesine.
The rooms have a very modern feel, you get free breakfast each morning and there's a beach directly in front of the hotel – what more could you ask for?
Other Hotel Options In Malcesine
We don't blame you for wanting a hotel near the castle.
But Malcesine is fairly small, so we would recommend taking a look at some other hotels which are within walking distance from the castle.
Hotel Alpino
You can't get more central in Malcesine than Hotel Alpino.
It's a short walk to the castle but you are also near the harbour, the main car park in Malcesine and just about everything else you can do in Malcesine.
Some rooms have balconies that overlook Monte Baldo, and there is a restaurant in the hotel that is perfect for grabbing some breakfast or having a drink or two before heading back to your room.
Hotel Dolomiti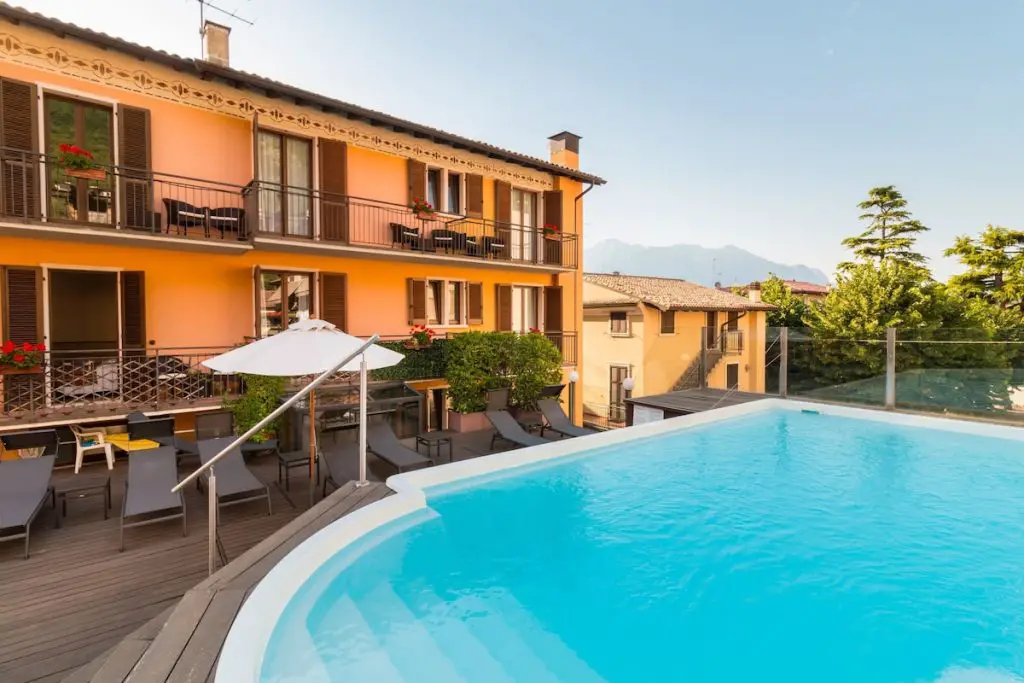 Hotel Dolomiti has a five-star rating on Tripadvisor and is in a great location in central Malcesine.
The hotel is very close to the harbour, all the bars and restaurants, and the castle.
There is an outdoor swimming pool with sun loungers, and you can also book an apartment-style room which has its own cooking facilities in the kitchen – which is great if you wanted space to make food for yourself whilst staying in Malcesine.
Summary & Things To Do In Malcesine
In summary, there are some great hotels in Malcesine situated next to the castle, but we would also recommend looking at other hotels in Malcesine as the castle is pretty much walking distance from anywhere.
Once you get to Malcesine, there are some great things to do, including:
Take a trip up Monte Baldo on the cable car
Explore the cobbled streets
Enjoy the beautiful food (and wine!)
Take a boat trip to see other towns in Lake Garda
Take in some of the local surroundings
Take a day trip to other towns in Lake Garda (with our recommendations)
Visit a nearby Italian city (Verona, Venice & Milan)