Malcesine & Lake Garda are very popular tourist destinations. There are a number of different airports you can fly into if you're travelling to Lake Garda.
This means that you have more options when looking for flights (providing you don't mind a little extra travel time when you get here) which means you might be able to find a better deal!
We will take you through each airport in the guide below.
Closest Airport To Malcesine
The closest airport to Malcesine is Verona Airport (Verona Villafranca Airport or Valerio Catullo Airport).
Verona airport is 63.5km away and roughly a 1 hour and 12-minute drive.
Verona Airport To Malcesine
As mentioned above, Verona airport is the closest airport to Malcesine in terms of distance.
The airport itself isn't massive, and pre-pandemic it was only the 15th busiest airport in Italy.
This means that you may not have the option to fly directly from here depending on where you are travelling from.
Currently, you can't get a direct flight to Verona from the United States. But if you are travelling from the UK or Europe, then the majority of airports have direct flights to Verona.
Getting From Verona Airport To Malcesine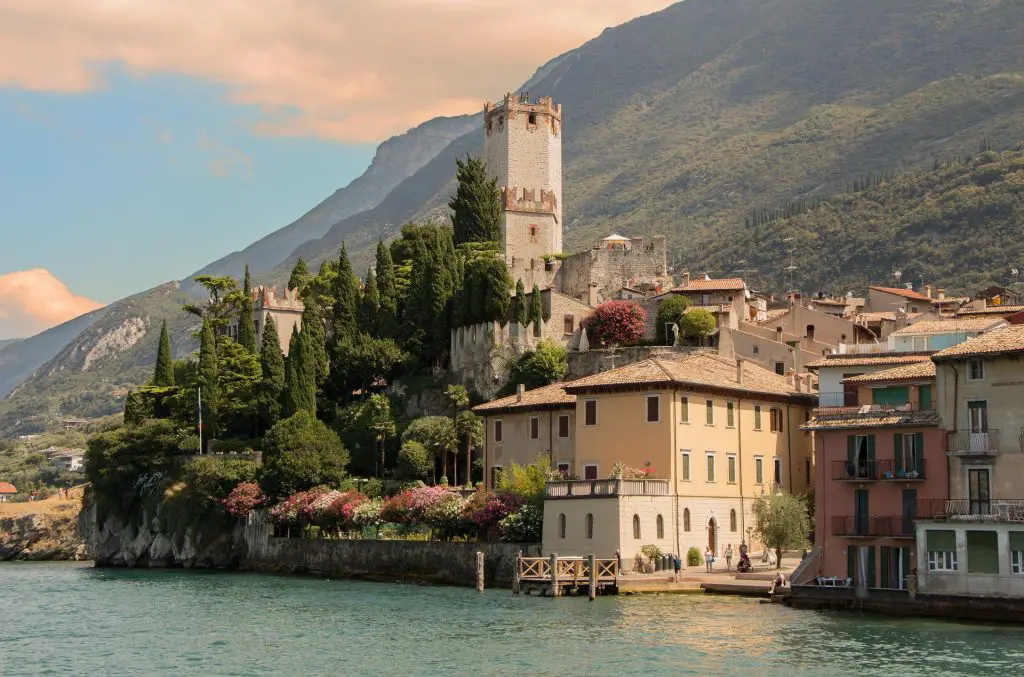 As Verona Airport is used a lot by European travellers visiting Lake Garda, there are plenty of airport transfer companies you can book who will pick you up at the airport and take you wherever you need to go in Lake Garda.
If you are travelling with a group of people this may be the best option as you can split the price of the journey with them.
If you plan on exploring other parts of Lake Garda whilst visiting Malcesine, then we recommend hiring a car at Verona Airport and making your way to Malcesine yourself.
Like most airports, there are plenty of car hire companies to choose from at Verona Airport, so you can shop around online to make sure you get the best deal.
The drive from Verona Airport to Malcesine is fairly straightforward and only takes just over 1 hour and 10 minutes.
The driving route from the airport to Malcesine takes you down roads right next to the lake, meaning you can take in some of the views of Lake Garda whilst heading to Malcesine.
Milan Airports To Malcesine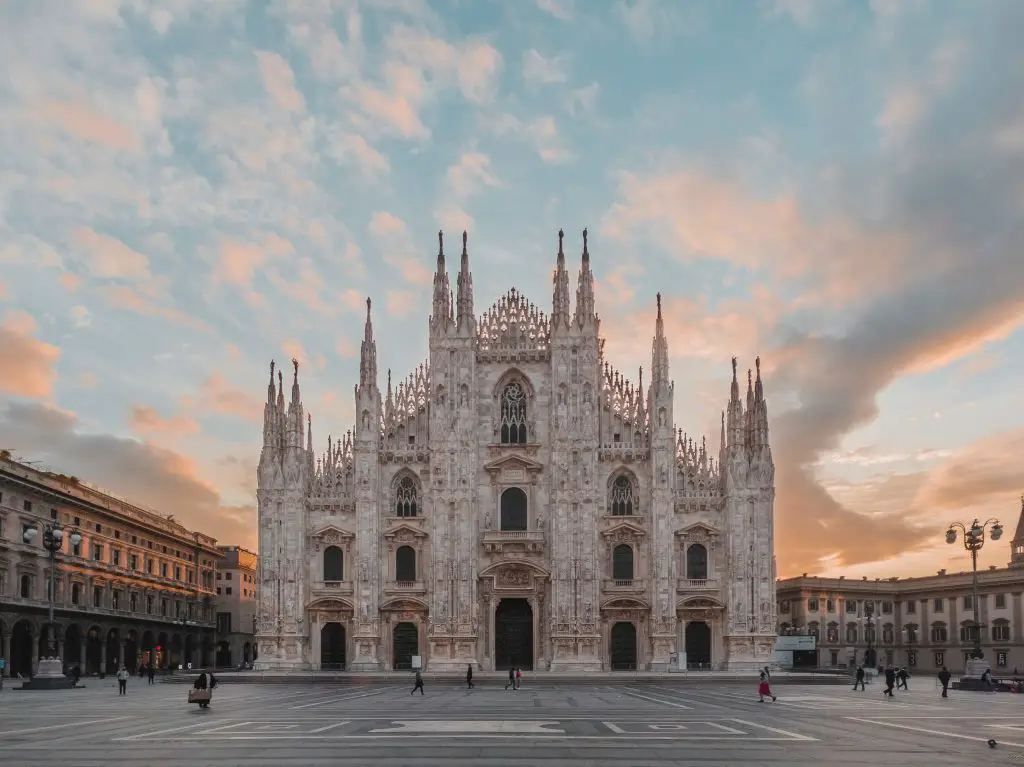 There are three major airports in Milan and its surrounding area.
Malpensa Airport, Bergamo Airport and Linate Airport.
Milan Malpensa Airport
Malpensa Airport (MXP) is the biggest airport out of the three, and it's also the second biggest airport in Italy in terms of passenger numbers.
If you are travelling to Italy from outside Europe, then this is likely the airport you will be landing in if you are flying to Milan.
Malpensa Airport is situated about 50km northwest of Milan (roughly about an hour's drive), so it is a fair distance away from the city.
The distance between Milan Malpensa airport and Lake Garda is around 179km, which is about a 2-hour 30 minute drive.
Milan Bergamo Airport
As the name suggests, Bergamo Airport is actually situated in Bergamo, and not Milan.
But the airport essentially serves Milan and the wider region – as opposed to just Bergamo – hence why it's referred to as Milan Bergamo Airport.
If you are travelling in from Europe, then you will likely find cheap flights to Milan Bergamo as a lot of low-cost carriers operate from here.
The distance from Bergamo Airport to Milan is similar to Malpensa Airport (just North East instead of North West). As the crow flies it's 51km and roughly an hours drive into Milan.
Bergamo Airport is also closer to Lake Garda and Malcesine than Malpensa Airport – so it's a slightly better option to fly into if you're heading here.
The distance between Bergamo Airport and Malcesine is 137km and around a 2-hour – 2 hour 15-minute drive, depending on traffic.
Milan Linate Airport
Milan Linate is the smallest airport of the three Milan airports.
It's only a 25-minute drive into Milan city center, so if you plan on visiting Milan before heading to Lake Garda and Malcesine then Milan Linate Airport is probably the best option for you.
The airport is still the 9th biggest in Italy (handling 6.5million passengers in 2019). A large majority of these passengers are on domestic flights from elsewhere in Italy, but there are still a number of international flights from major European cities.
The journey from Milan Linate Airport to Malcesine would take around 2 and a half hours by car (168km).
Venice Airport To Malcesine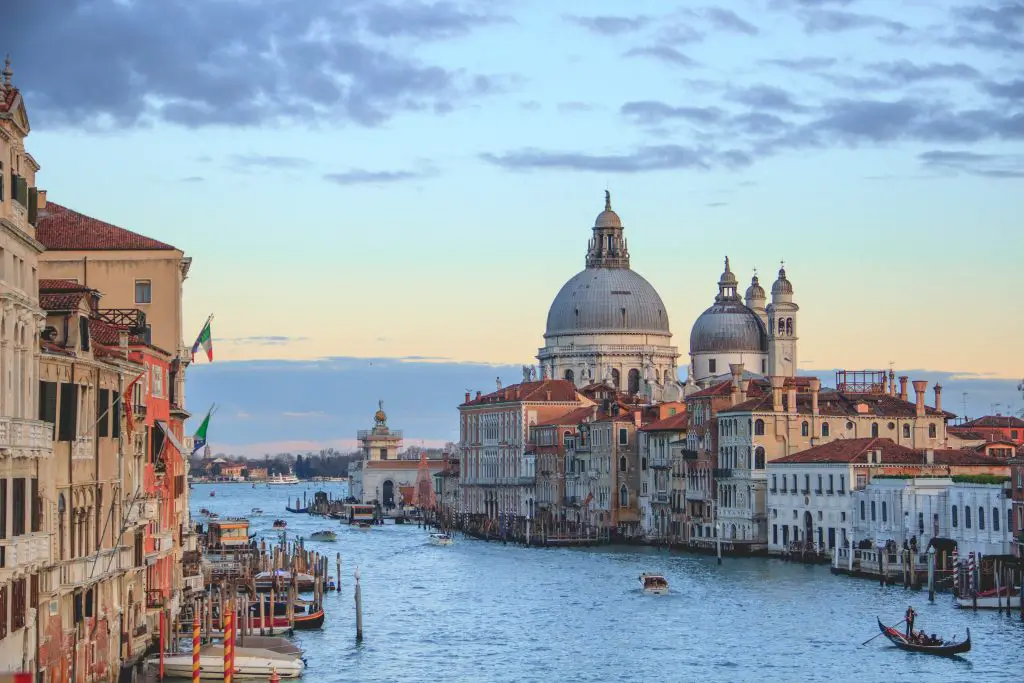 Venice Marco Polo Airport is the 4th busiest airport in Italy (right behind Bergamo & Malpensa).
You can get direct flights from the US & Canada as well as direct flights from the majority of major airports across Europe.
The drive from Venice Airport to Malcesine takes around 2 and a half hours (185km), so it is a little further away from Bergamo Airport and Verona Airport – but it's still worth looking to see if there are cheaper flights than other airports plus it means you have the option of exploring Venice before heading to Malcesine!
Things To Do In Malcesine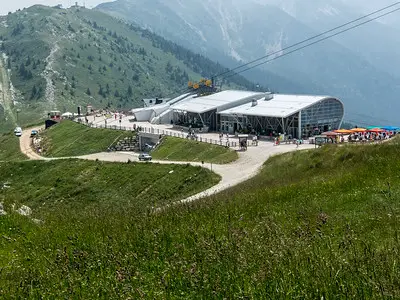 When you get to Malcesine, there are plenty of things to do, including;
Visting Malcesine Castle (Scaliger Castello)
Going up the cable car to Monte Baldo
Walking around the cobbled streets, taking in the sights
Having a bite to eat and a drink in Malcesine harbour
Taking a boat trip across to Limone Sul Garda or elsewhere on Lake Garda
We've also produced a helpful guide to parking in Malcesine along with a guide to the best hotels in Malcesine – which you think we may find useful.
Summary
In short, there are five airports you could fly into to get to Lake Garda & Malcesine:
Milan Malpensa
Milan Bergamo
Milan Linate
Verona Airport
Venice Airport
If you are travelling from the US or Canada then Milan Malpensa and Venice are your best options for direct flights.
The variety of airport options allows you to check for cheaper flights, as well as giving you options of staying in different cities, like Venice or Milan before heading to Malcesine.
---