With spring in Lake Garda comes a much warmer climate than in the winter months, and as the days start to warm up and more tourists attractions open
Read on to discover the average weather in Lake Garda in April, as well as the best things to do in and around Lake Garda at this time of year.
Lake Garda In April (Weather & Things To Do)
Lake Garda In April
As mentioned above, Lake Garda in April is slightly warmer than in March, but it can still be chilly, especially in the evenings.
One main benefit of visiting in April is there are more tourists, which means more tourist attractions are open, but you are still avoiding the large crowds in the summer.
Lake Garda Weather In April

The average temperature in Lake Garda in April is 12°C, with highs of 17°C and lows of 7°C.
The average daily sunshine is 6 hours, and the rainfall in April is 10 days.
Whilst April isn't the hottest month to visit, the weather in Lake Garda is pleasant in the daytime and not too cold in the evenings (although we would recommend taking a jacket or a coat to keep warm).
When visiting Lake Garda in April previously, we had one or two rain showers, but we actually enjoyed it as we sheltered in a local bar in Malcesine as it just feels so fresh and clean. The two images below were taken in April, and you can see the contrast different days can be, with one being sunny & cloudy, and the other being just before the rains hit!
If you want warmer weather and still avoid the peak tourist season in Lake Garda, then we would recommend visiting Lake Garda in May.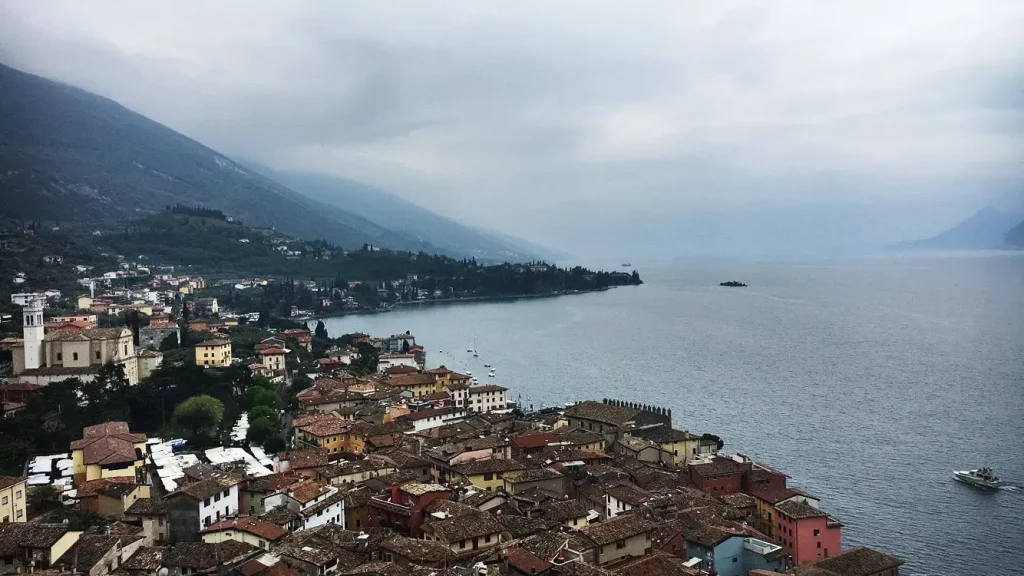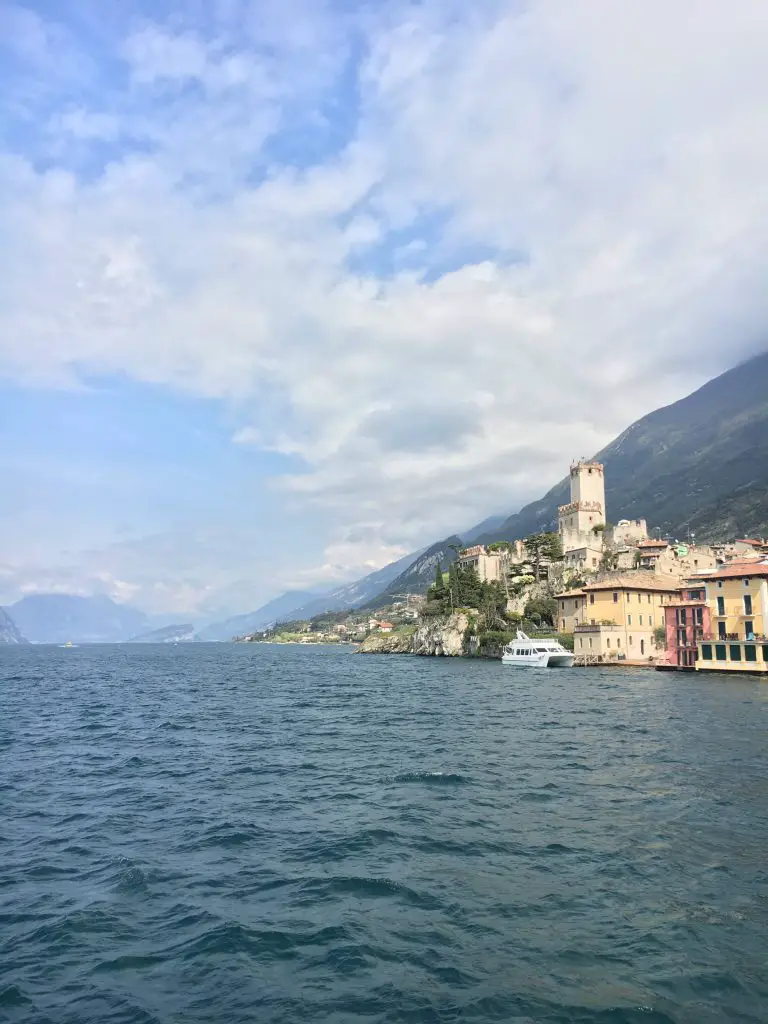 Can you swim in Lake Garda in April?
Yes, you can swim in Lake Garda in April – but it will be quite cold! This isn't a bad thing, however, as you get used to it pretty quickly. If you want to swim in the lake and avoid being too cold, June, July, August & September are your best bets.
Is Lake Garda good in April?
Lake Garda in April is a great time to visit. The weather isn't too warm, and the peak tourist months haven't hit yet. There are also more tourists than in the winter season, which means more tourist attractions, shops & restaurants are open.
Things To Do In Lake Garda In April
There's a lot to do in April in Lake Garda. Below are just some recommendations of what to do!
Visit Gardaland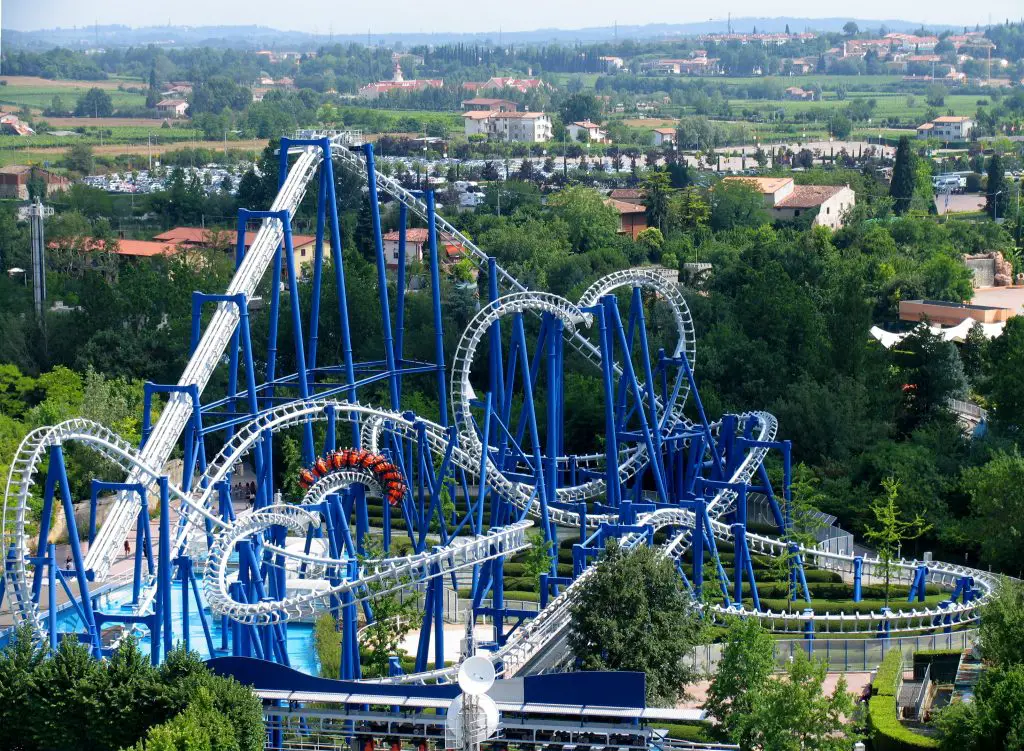 After shutting down for the winter, Gardaland is back open every day in April. There's a lot to do for the whole family at Gardaland, with thrill rides, rollercoasters, and a dedicated children's section.
Gardaland is one of Europe's biggest theme parks, so we would definitely recommend a visit!
Watch The Garda Trentino Sailing Regatta
The Garda Trentino is a sailing event where 1000 young sailors from multiple nations take part in a regatta event near the shores of Riva del Garda.
This is a unique chance to enjoy watching a sailing event in one of the most picturesque lakes in the world. We'd recommend heading down to Riva del Garda to get the best views of the race.
The 2023 event takes place from the 6th of April – the 9th of April (Easter Sunday).
Explore Lake Garda's Towns & Villages
There are so many towns & villages to explore in Lake Garda, and one of the best ways to do this is by hopping on a ferry and exploring the lake.
The ferry timetables change in April, as the ferries become more frequent as the tourist numbers increase. You can purchase a ticket for as little as €3, or you can purchase day tickets to get unlimited travel all day.
Take A Day Trip To Verona
Verona isn't too far away from Lake Garda, and there are multiple ways of getting from Lake Garda to Verona. Whenever you visit Lake Garda, we would recommend visiting Verona. Taking a stroll through this historic city is a must, and there's plenty of other things to do too.
From visiting Juliet's balcony (from Romeo & Juliet), to taking a tour of the famous Arena di Verona, you won't be bored!