Travelling from Verona to Venice is a popular route for tourists whilst visiting Italy.
Both are historic cities rich in culture, and we would recommend visiting both if you are staying in either for more than a few days.
Related Posts:
How To Travel From Verona To Lake Garda
How To Travel From Verona To Milan
Travelling From Verona To Venice
You've got a number of options if you are travelling between Verona & Venice:
By Train
By Bus
By Car (driving)
By Taxi
As there's a direct train line between the two cities, we would recommend travelling by train as a rule, but this may depend on certain factors.
Getting To Venice By Train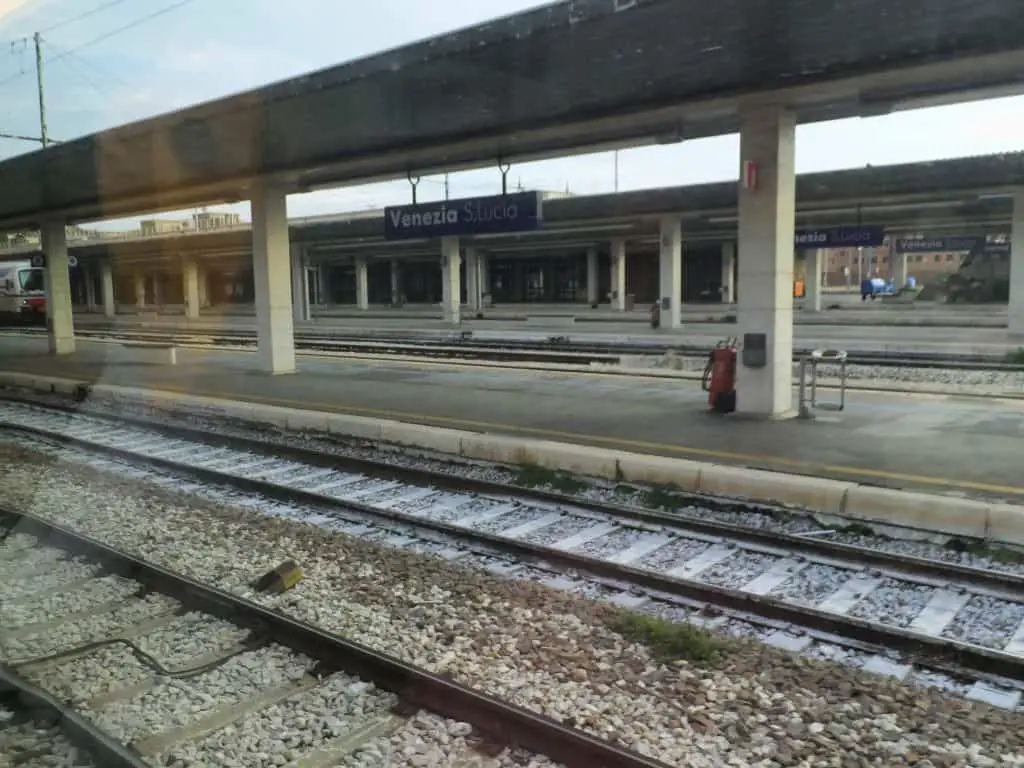 Getting the train from Verona to Venice is quite straightforward. It's cheap, affordable and there are multiple trains per hour.
Is There A Direct Train From Verona To Venice?
There's a direct train that runs from Verona to Venice. The majority of trains run directly between the two without stopping at any other stations, meaning the journey time is much quicker.
How Long Does The Verona To Venice Train Take?
Journey times vary depending on what train you get but it can take between 1h 3m – 2h 15m, but the majority of trains take 1h 12m.
How Much Does The Train From Verona To Venice Cost?
The cheapest train from Verona to Venice is €9.74, whilst the most expensive is €17.76.
Some of the cheapest trains can take longer (upwards of 2 hours) but most of the cheapest trains take 1h 28m.
We would recommend searching ahead and booking your tickets in advance so you can find the cheapest & quickest trains. Plus you won't have to buy your tickets when you get to the train station. You can book tickets directly from Trainline.
Verona Train Station
Verona Porta Nuova train station is the main train station in Verona.
It is situated just outside of the city center, and takes about 20 minutes to get from the city center to the train station.
Venice Train Station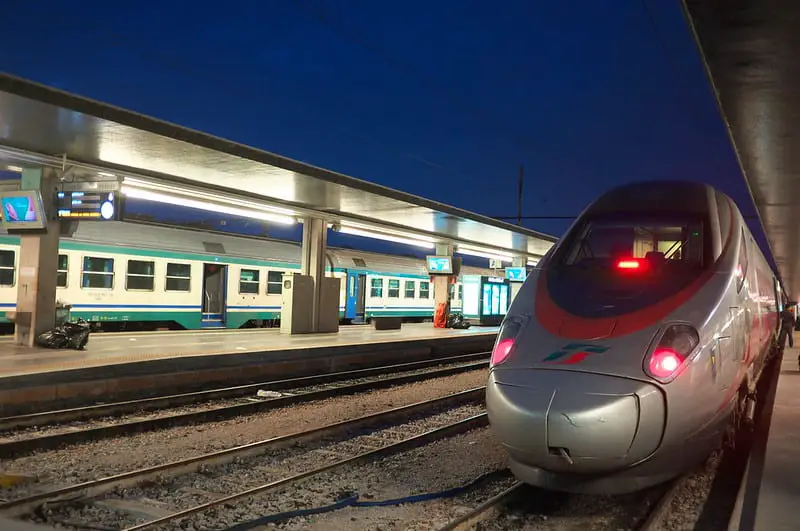 The Stazione di Venezia Santa Lucia is situated right at the tip of Venice and connects Venice to the mainland.
Once you get to the station you can stroll into Venice city center or take a world-famous gondola around the Venice canals to get to your final destination.
Getting To Venice By Bus/Coach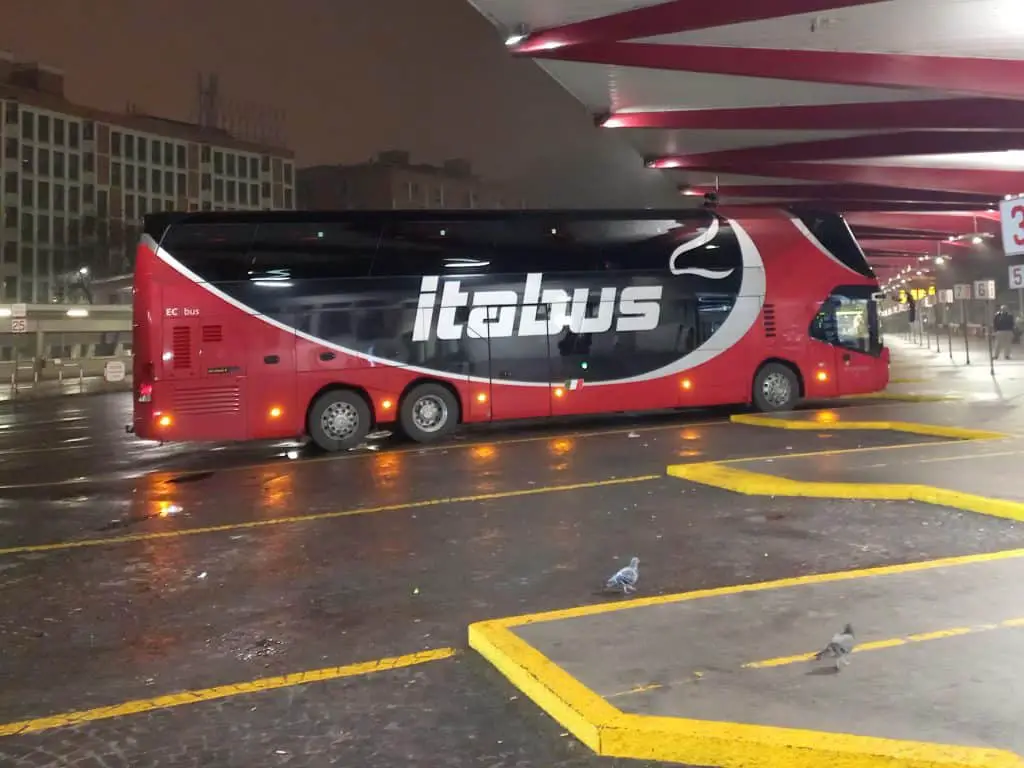 Another way to travel between Verona and Venice is by bus. We would recommend getting an Itabus, which is an Italian bus company which has routes linking all the major Italian cities.
With Itabus, you can get a bus from Verona to Venice from €7, which is quite cheap.
The journey takes slightly longer than some of the train times mentioned above, but it's not too long at just under 2 hours.
One huge plus about travelling with Itabus is that it's a comfortable journey. The seats are very comfortable, there's Wi-Fi, toilets, sockets to charge your devices and there's even a vending machine.
Itabus leaves Verona for Venice three times a day, at the following times:
10:20
15:35
18:05
Getting To Venice By Car (Driving)
If you don't mind hiring a car for your trip to Italy, then we would recommend driving to Venice from Verona.
How Long Does It Take To Drive To Venice From Verona?
The average driving time takes around an hour and a half.
The drive itself is straightforward, with the majority of it spent on the E70 (Italian motorway).
Italy Travel Tip: You have to pay a toll to use the motorways in Italy. You can pay in cash or card (contactless) and the toll booths are situated at each exit of the motorway.
Parking In Venice When You Get There
Without trying to state the obvious, you can't drive right into the middle of Venice (unless you have a car that turns into a boat?!).
There are, however, a number of parking options as you come off the Ponte della Libertà bridge (this is the bridge that takes you across to Venice) and onto Tronchetto island.
The biggest car park here is Tronchetto Parking, which has 650 parking spaces (400 inside, 250 outside). You can find the latest rates below:
| | |
| --- | --- |
| Duration | Price |
| Up to 1 hour | €3 |
| Up to 2 hours | €8 |
| Up to 3 hours | €14 |
| 24 Hours | €22 |
Once you have parked on Tronchetto you can walk into the city centre, which is roughly a 35-minute walk into the San Marco area of the city.
Alternatively, you can get a water taxi to take you to wherever you want in the city. (you are in Venice after all!)
Summary
Travelling from Verona to Venice is relatively quick, easy, and quite affordable. This makes it the perfect trip if you are visiting Italy or Verona and you want to see Venice. Here's a recap of some of the options you have:
By train (quickest route)
By bus (cheapest via Itabus)
Drive (expensive parking but easy drive)
We would also recommend taking a trip from Verona to Milan or Verona to Lake Garda whilst you are in Italy, as both are easy to get to from Verona and inexpensive.
---