Peschiera del Garda is perfectly situated for you to enjoy a day trip in Verona due to its location on Lake Garda and access to train stations and motorways.
We've taken a look at some of the best options for traveling between the two locations, so read on and get planning that day trip!
Getting From Peschiera del Garda To Verona
You've got three realistic options when looking at traveling from Peschiera del Garda to Verona;
Travel by train
Drive
Take a taxi
Each option may suit some people more than others depending on preference but in our opinion, the train is by far the best option due to it being quick and inexpensive.
Read on to discover more information about traveling to Verona by train.
How far is Peschiera del Garda to Verona?
As the crow flies, Peschiera del Garda to Verona is 23.9km (14.8 miles).
---
Travelling from Peschiera del Garda to Verona By Train
You can get a direct train from Peschiera del Garda train station to Verona Porta Nuova station. If you are staying in Peschiera del Garda then the train station is within walking distance from anywhere in the town.
How much is the train from Peschiera del Garda to Verona?
The train from Peschiera del Garda train station to Verona Porta Nuova train station varies from as little as £3.26 to £13.22. 
The cheapest train is operated by a regional rail company called Trenord. These trains take the longest, but still only take 19 minutes. These trains run less frequently than other trains, and usually leave Peschiera del Garda train station every hour. 
The most expensive train from Lake Garda to Verona (currently £13.22) only takes 14 minutes. There are two high-speed train operators who run this faster service, Italo & Frecciargento. These services tend to have wifi and plug sockets and usually operate a couple of times per hour.
Times and prices were up to date at the time of writing. We would advise checking timetables and prices before you plan your day trip to Verona! You can check timetables and book trains in advance on trainline. 
How long does the train take from Peschiera del Garda to Verona?
The average journey time is 14 – 19 minutes. The fastest train takes 14 minutes, whilst the 'slower' train takes 19 minutes. All of the trains are direct and require no changes.
---
Peschiera del Garda To Verona By Car
If you already have a hire car then driving to Verona may be the best option for you.
How long does it take to get from Peschiera del Garda to Verona?
The quickest driving route between Peschiera del Garda and Verona is roughly 29 minutes (depending on what time you set off).
Driving to Verona from Peschiera del Garda
Journey time: 29 minutes
Distance: 28.6km
The quickest route to Verona is by heading east onto the E70, then heading North on the SS12. Once you exit the SS12 at the Verona junction, we would advise heading to the Citadella area of the city to park (more details on parking in Verona below).
Top Tip: The SS12 is a motorway which means you have to pay a toll when you exit the motorway (all motorways in Italy are toll roads). You can pay the toll using card or cash.
Where to park in Verona
There are a lot of choices when parking in Verona. We would advise planning on where you want to park before you set off, to avoid the stress of finding a parking spot in a totally new city. 
There are a couple of parking options close to the Citadella (which is pretty central in Verona). Both have a maximum charge of €18 per day, but it is cheaper if you stay under 6 hours.
Hiring a car from Lake Garda or Malcesine
If you want to drive to Verona, then we would recommend hiring a car from whichever airport you will be landing at, as there aren't many options in Lake Garda itself. 
Airports have a wide variety of rental companies, giving you more choice so you can shop around and get the best deals.
---
Peschiera del Garda To Verona By Taxi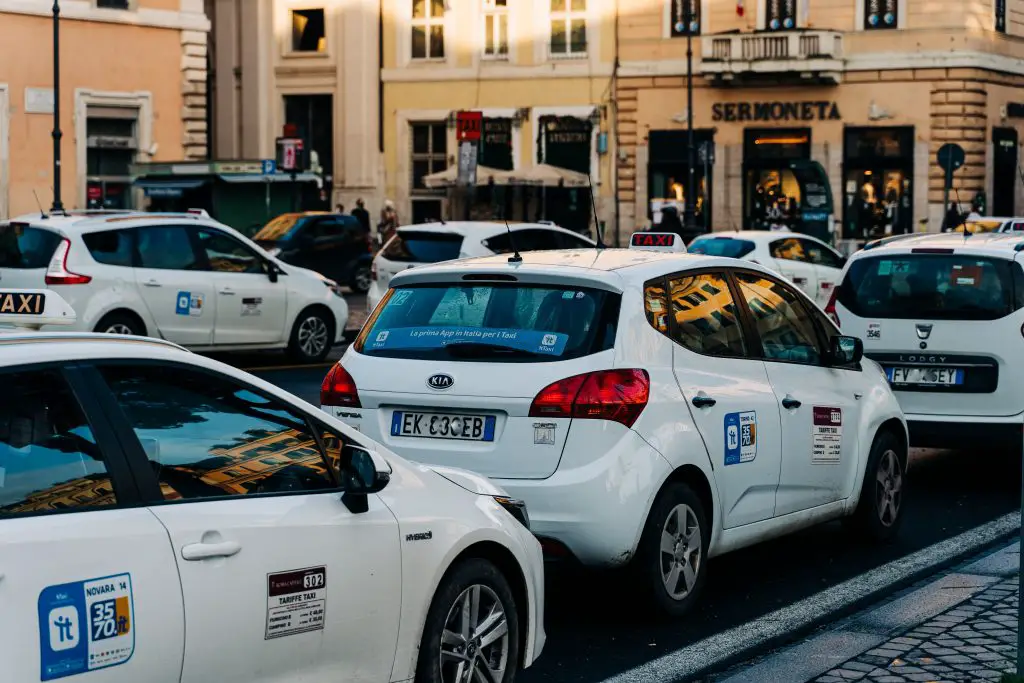 Getting a taxi is by far the most expensive option, but if you don't have a hire car and you want to avoid the train then it could be the way to go!
How much is a taxi from Peschiera del Garda to Verona?
You would be looking at paying around €35 – €46 to get a taxi to Verona, so when you factor in the cost of fuel, toll roads, and parking, it doesn't work out that more expensive than driving yourself.
---
Summary
In summary, we would recommend taking the train to Verona as the train is cheap and relatively quick, which makes visiting Verona during your stay in Lake Garda and Peschiera del Garda a must.